Wolverine Hotel gets financial backing at AFM
Jean-Guy Despres' Reflection Films International is getting behind the crime thriller, directed by Patricia Chica (pictured).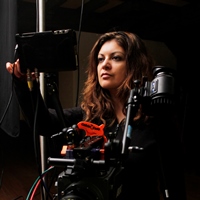 Reflection Films International has boarded Wolverine Hotel, a crime thriller by director Patricia Chica, as a financial backer.
The deal inked at AFM will see Jean-Guy Després' shingle executive produce the indie from Byron Martin Productions.
"I accepted to get involved in the financing of Wolverine Hotel because I find the project extremely viable both from a commercial and financial points of view," Després said in a statement.
"Being directed by a young up-and-coming filmmaker like Patricia Chica, with a strong creative vision, this film has the potential to also do well in the international film festival circuit," he added.
The Canadian film will also be shopped at the Los Cabos Film Festival as producer Byron Martin looks to fill out the $1.5 million budget. Wolverine Hotel was written by Andrew Lynch.