VVS Films to release EuropaCorp movie titles in Canada
The output deal with Luc Besson's mini-studio was unveiled at AFM.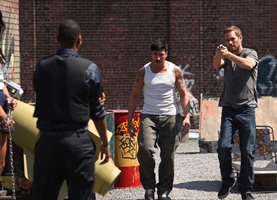 VVS Films has landed a deal to release movie titles by Luc Besson's European mini-stuido EuropaCorp in Canada.
The multi-year agreement will start with the release of Transporter Legacy in Canadian theatres on June 19, 2015.
The Canadian output deal follows EuropaCorp getting deeper into English language pictures, and VVS releasing Brick Mansions, with the late Paul Walker, here.
The deal was unveiled at AFM by Ernie Grivakis, CEO of VVS Films.
The Canadian agreement complements EuropaCorp. recently inking a joint venture with Relativity Media to release movie titles in the U.S. market.
EuropaCorp, based in Paris, launch in 1999, and produces film and TV series, and since last year also operates a EuropaCorp-branded cinema chain in France.