Tiny Plastic Men to bow online before broadcast date
Episodes from the third season of the Mosaic Entertainment series will be available online months before its broadcast premiere on Super Channel.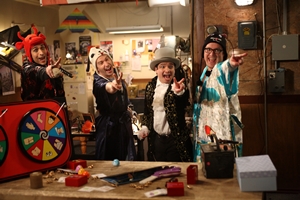 Super Channel will bow three episodes of the third season of Mosaic Entertainment's Tiny Plastic Men online starting Nov. 3, months before the series is set to premiere on the network.
"We see this as an opportunity to make a fun show available to a wider audience, hopefully attracting both fans and new subscribers in the process," Julie Di Cresce, Super Channel director of Canadian programming, told Playback Daily.
Each of the three episodes will be split up into three segments online, for a total of nine "webisodes." Three webisodes will air per week, leading up to the show's broadcast launch some time in March or April of 2015. The content will be available on the Tiny Plastic Men website, as well as YouTube.
The digital pre-release strategy for the episodes providers viewers with a different way to discover Super Channel content outside of broadcasts, Di Cresce said, including audiences who watch content mostly online or on mobile devices. All of the Tiny Plastic Men content will be branded Super Channel, and the remaining five episodes in the season will be available exclusively to Super Channel subscribers, Di Cresce said.
Tiny Plastic Men is produced by Mosaic Entertainment, in associated with Super Channel and with the participation of the Canada Media Fund and the assistance of the Alberta Media Fund. The series was created by and stars Matt Alden, Chris Craddock and Mark Meer.