Industryworks Studios' The Lost Legion gets U.S. distribution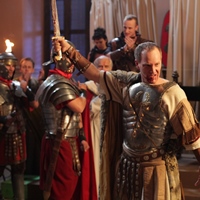 Vancouver-based genre producer IndustryWorks Studios has sold the U.S. distribution rights to its The Lost Legion feature to Grindstone Entertainment.
The agreement will see Lionsgate Home Entertainment release the film across its media platforms in 2015 as part of a film slate deal with Grindstone.
IndustryWorks then plans to make a follow-up  The Lost Legion TV series, scheduled for 2015, from executive producers Evan Tylor, John Curtis and Lloyd Simandl.
The feature film co-stars Michelle Lukes, Brian Caspe, Tom McKay and Jim High (Crossing Lines).
IndustryWorks Studios recently completed the genre feature  Wrecker, which stars Anna Hutchison (Cabin in the Woods), and its earlier credits includes American Mary, the Katherine Isabelle-starring slasher film.