Cameras roll in Toronto on Syfy's The Expanse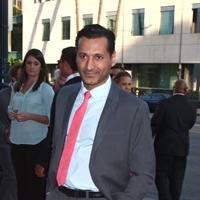 Another Syfy series has started shooting in Toronto, joining a host of series commissioned by the U.S. broadcaster and shot in Canada.
The Expanse, from L.A.-based Alcon TV and Syfy, will shoot in Toronto through March 27, 2015, based out of Pinewood Toronto Studios.
The 10-episode series is the latest from Syfy to shoot in Canada after the adventure thriller 12 Monkeys, Helix, Ascension and Defiance also set up north of the border for production. The NBCUniversal-owned channel has also acquired for stateside broadcast Canadian sci-fi series like Bitten, Haven, Lost Girl and Continuum.
Casting news unveiled alongside the production announcement sees Canadian actors Paulo Costanzo and Cas Anvar on board the production, which is set 200 years in the future. Starring Hung alum Thomas Jane as a hardened detective and Steven Strait as a rogue ship's captain coming together to solve the case of a missing young woman as they race across the solar system.
Anvar is to play retired Martian Navy pilot Alex Kamal, while Costanzo will guest star as medical technician Shed Garvy.
Based on a book series of the same name, the series is set to air on Syfy in 2015. The Expanse is Alcon TV's first series order, according to a release.