Sandra Oh boards Ann Marie Fleming's Window Horses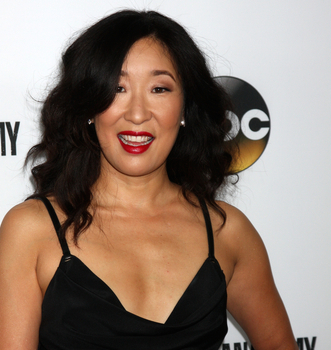 Veteran filmmaker Ann Marie Fleming has joined actress Sandra Oh to launch an Indiegogo campaign to raise $130,000 in financing for the animated feature film Window Horses.
Oh and Nancy Kwan will board the Canadian indie to help voice the coming-of-age story about a young Canadian poet of Chinese-Persian heritage who travels to Iran.
But Window Horses also marks the first major gig for Oh after leaving Grey's Anatomy as a co-star on the long-running U.S. network medical drama.
"For me, it was like, 'Oh! This is the next thing," Oh recalled to Playback Daily when recounting how she came to collaborate with Fleming on Window Horses.
As it turns out, Oh has known Fleming since her break-out role in Mina Shum's Double Happiness 20 years ago. The two had, from time to time, discussed working together, but nothing materialized, until the recent Toronto International Film Festival that Oh attended.
Fleming dangled Window Horses, which portrays Rosie Ming, a young Canadian poet journeying to Iran for a literary festival, only to confront her past, her culture and her long-lost Iranian father, in front of Oh.
The veteran director asked Oh to voice Stickgirl, a recurring figure in Fleming's work over 25, who plays Rosie Ming.
Oh recalls immediately agreeing to board the project.
"This is right during TIFF, I said yes, because she's a friend," she added.
But Fleming, while welcoming the support, still wanted Oh to read the Window Horses graphic novel and view the trailer.
Once back in Los Angeles, Oh did both and was immediately swept away by the project. "I completely was moved and I completely fell in love," she said.
When she rang Fleming, Oh told the director that she would voice Window Horses and, one better, help her make the film.
That commitment is key because Oh has been looking for a project to board after taking the courageous step to leave Grey's Anatomy, a long-running, successful TV gig that is the stuff of every aspiring actor's dreams.
And it signals the emergence of Oh as a film producer. "I'm taking baby steps on what it is to produce," she told Playback Daily.
That journey will start Tuesday with Oh and Fleming launching an Indiegogo campaign to raise $130,000, with $92,200 going to complete the animation by Fleming and fellow artist Kevin Langdale.
"We're asking people to invest, but the amount of the budget will allow [Fleming] to animate the film. Later, we will need to go out and get finishing funds," Oh said.
The Indiegogo funds will also go to cover casting, actors, voice recordings and associated costs, including a recording studio, a mix and edit. Perks for  contributors range from a DVD of the finished film, to a character in their likeness appearing in the film, and even an associate producer credit. For $5,000, a contributor can submit a poem that will be animated and included in the DVD.
For $5,000, donors can also dine with Oh and Fleming, with dim sum in Vancouver or Persian food in Los Angeles recommended.
The Indiegogo campaign is also about seeding Window Horses in the minds of early backers so that they can help build an audience over time.
"We want them to spread word of mouth," Oh said of crowd-funding partners. "This is not a project where you will be bombarded with commercials. This is bringing up the questions and the subjects and the love of poetry from people living a multicultural life."
And it's also a film that Oh expects to be pitching and promoting to additional investors until a project already 10 years in the making is finally made.
"I have full faith that when Ann Marie completes the animation part, I will be able to take that 80, 90 minute film and stick it in front of five, 10 people who will each write me a cheque," Oh said of raising finishing funds down the road.