Saloon, Impossible team up to bring Mummies Alive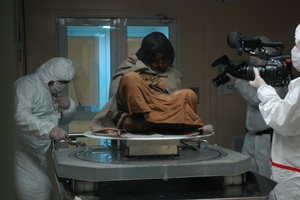 Toronto's Saloon Media and U.K.-based Impossible Factual have partnered on Mummies Alive, a new factual series set to air on History in Canada and Smithsonian U.S.
Production on the U.K.-Canada copro is just wrapping up, and was shot in locations around the world including Italy and Egypt, said series producer Steven Gamester of Saloon Media. The first season of Mummies Alive will include six, one-hour episodes.
Each episode of the series will focus on a different mummy that came from a different time period. The series will also use CGI animation to recreate the worlds the mummies lived in while they were still walking the earth, and show how they met their deaths.
Gamester said the prodcos hope the international scope of the series, in addition to the widespread popularity of mummies, will position the show well for global audiences.
"Whenever mummies go on exhibitions around the world, they attract huge crowds. There are few things that seem to transcend the normal genres – where there are people who are only interested in history or only interested in science. For some reason, mummies seem to run above that," Gamester said.
The prodcos hope to deliver Mummies Alive to the broadcasters by February 2015 and will likely air in the spring or summer of that year. In addition to History and Smithsonian US, the show will also air on Yesterday in the U.K., ZDF in Germany and SBS in Australia. Financing sources for Mummies Alive included broadcast licences, the Canada Media Fund and tax credits.
Michael Kot and Jonathan Drake serve as executive producers on Mummies Alive.  Mike Slee and Steve Maher serve as series producers along with Gamester.