Ryerson student series picked up by OWN, Rogers TV
The Naked Entrepreneur, a series produced by Ryerson RTA School of Media and business students, will air on Rogers TV and OWN in Canada.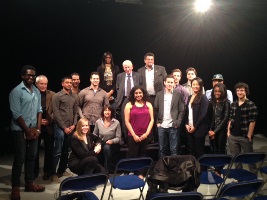 A series produced by Ryerson University students that profiles Canadian entrepreneurs has been picked up by Rogers TV and the Oprah Winfrey Network.
Rogers TV will bow the first of 13, half-hour episodes on Oct. 28, while Corus's OWN will air eight, one-hour episodes of the series in Canada starting in January 2015.
The Naked Entrepreneur features interviews between Ryerson professor Sean Wise and various Canadian business leaders, including John Sleeman, Harry Rosen and Brett Wilson. RTA School of Media students and students from the Ted Rogers School of Management produced the series as part of their coursework.
While the school has been shooting and producing the series for three years as part of a course offered at Ryerson, this is the first time the programming will appear on television, said Wise. The licence fees provided by Rogers and OWN were small, Wise said, and the funds raised through the sale will go towards production of the next season of the show.
With the additional cash, Wise hopes the students can travel outside of the Ryerson studios to travel to San Francisco, New York and Chicago to interview Canadian entrepreneurs who have seen success abroad.
In 2013, the CRTC requested that OWN up its educational programming to comply with its broadcast licence, which was originally issued to Canadian Learning Television in 1996.
Story updated Oct. 24 at 2:42 p.m.