Corus gets rock history radio show on Flink startup
Past and new episodes of The Ongoing History of New Music radio show will stream on the digital storytelling platform.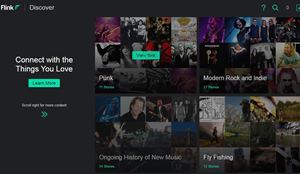 Corus Entertainment has a novel way to connect with audiences as they migrate increasingly to new and cluttered digital platforms.
The broadcaster has pacted with Flink, the crowd-sourced publishing platform, to feature past and new episodes of The Ongoing History of New Music radio show on Flink's storytelling platform.
Targeting "superfans," the platform crowd-sources and curates content around music properties into a collection known as a "flink," offering its subscribers a deep dive into the topics they care about most. The Ongoing History of New Music "flink" launched on the platform with 700 episodes.
The site encourages participation with a user-based monetization strategy, in which so-called Flink superfans – who pay a monthly subscription fee – are motivated to rise up a leaderboard by contributing, sharing or promoting content on individual flinks. Superfans can earn a share of a flink's overall revenue if the content they contributed or promoted causes another user to sign up for a subscription to the serivice. The subscription fees to The Ongoing History of New Music flink is $5 a month.
The Ongoing History of New Music is  hosted by music journalist Alan Cross and produced by Corus Entertainment.
Also Tuesday, Corus Media said it has inked a supply deal with A+E Networks to bring content and branding from the Canadian History channel to Historia in Quebec.
Corus, which recently purchased 100% control of Historia, will add to the French-language channel's lineup with History titles like Mountain Men, Appalachian Outlaws, Down East Dickering and No Man's Land.
Historia already airs History titles like Pawn Stars, American Pickers, American Restoration and Counting Cars.
And Historia will incorporate the iconic gold History 'H' into its logo.