CineApp lets 'Voyeurs' choose their own adventure
Mobile entertainment platform company CineApp is set to launch a new app that lets users customize a storyline with their Facebook profile.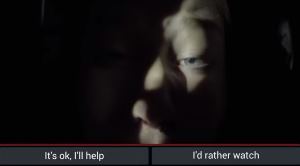 Passive second screen experiences may be getting a little, well, passé, but Toronto-based mobile entertainment platform company CineApp is looking to take second screen to a new level with its new interactive app.
Next week, the company will release a new interactive game/web series hybrid titled Voyeur – which CineApp has deemed an "interactive mobile series" – designed to integrate the user directly into the series storyline.
Voyeur will be the first interactive mobile series available via the eponymous CineApp app. In Voyeur, a woman named Ash is trapped in an abandoned orphanage while a mad man is on the loose. While users navigate their way through the program, choose-your-own-adventure-style, the CineApp app pulls in information from the user's Facebook profile.
The user's name and photos from their profile then appear while the user is playing through the program, and are incorporated into the storyline. Voyeur is broken up into three "episodes," during which users can respond to questions posed by other characters in the game and are forced to make decisions that determine the ultimate outcome of each episode. For example, if a series character is trapped and asks for help, users can select an option reading "It's ok, I'll help" or another one reading "I'd rather watch." The outcome of the episode depends on which option the user chooses.
By incorporating personal info from users Facebook accounts, CineApp can offer viewers a unique production and viewing experience that cannot be replicated, explained CineApp producer Jordan Walker.
"Because this is an app, and because this is personalized, it's not a 'pirate-able' experience. This is something that you would have to go through the app to get," Walker told Playback Daily. Before playing the game, users must grant the app permission to access their Facebook profile information via the Facebook Connect program.
The CineApp app and Voyeur program will be launched in beta on Oct. 31 as a freemium download on Google Play. CineApp creator Oliver Moorhouse said he believes the CineApp platform could work well for television series or other productions that want to create a unique second-screen experience for their properties.
"We have really built a platform that is able to accommodate any type of genre – it doesn't have to be just horror," Moorhouse told Playback Daily.
Going forward, Moorhouse said he wants to expand CineApp's reach so the producers can apply for another round of funding through the Canada Media Fund to further develop the platform. The company would also like to expand the Voyeur series to nine or 10 episodes, beyond the three episodes that will be available on the beta version.
The Voyeur production received financing from the Canada Media Fund through the experimental stream. Ravi Steve and Jeff Geddis served as writers on Voyeur.