Orphan Black's third season goes into production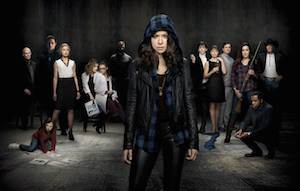 Production on Space original series Orphan Black is now underway in Toronto.
Produced by Toronto's Temple Street Productions, in association with Space and BBC America, the series will shoot through spring 2015 in studio at Pinewood Toronto Studios and on location in the city.
Orphan Black heads into season three with momentum garnered over its two critically acclaimed first seasons. In addition to kudos for its lead actor Tatiana Maslany, the series also won a Peabody Award in 2014 and an overall total of 10 Canadian Screen Awards.
According to Bell Media, Orphan Black had an average audience of 337,000 viewers over season two and won its timeslot in specialty throughout its 10-episode run. This summer, Temple Street struck a deal naming California-based Striker Entertainment as the worldwide (excluding Canada) licensing agent for the sci-fi series.
Season three premieres on Space and BBC America in spring 2015.
Updated Oct. 16 at 3:38 p.m.