Heartland rides into the record books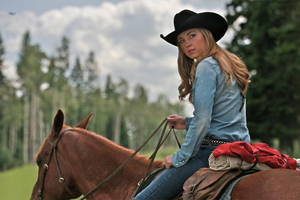 The CBC family drama Heartland is poised to ride off into the record books as the series readies to air its 125th episode on Oct. 19, making it the longest-running Canadian one-hour drama in Canadian television history, according to the CBC.
The series continues to pull a solid audience for the pubcaster, with an average of about one million viewers tuning into Heartland each week for its 7 p.m. (ET) Sunday broadcast, a timeslot the CBC has kept for the show since season one. Heartland also hit its 1000th day of production on Oct. 2, and the series will have 139 episodes in total once production wraps on season eight. (While other series have achieved more total episodes, Heartland is the longest running in its format/genre, the CBC confirms.)
From the start, CBC intended for Heartland to be multi-generational show that families could watch together on Sunday evenings, said Helen Asimakis, senior director of drama, commissioned and scripted programming at CBC, which she said has contributed to the long-term success of the show.
"I think the audience connects and loves these characters because they feel like real people; a real family," Asimakis told Playback Daily.
CBC has also made "huge" efforts to promote Heartland through social media and engage with fans of the show, Asimakis added. The series' Facebook page currently has 193,000 followers and 50,000 followers on its Twitter account, an online following that Asimakis said has helped foster the success of the series and viewer's investment in the characters.
The series has found success in international markets as well. Heartland is currently licensed in more than 119 countries, and is the #1 family drama series on UPTV in the U.S., Asimakis said.
The CBC has not yet made a commitment to a ninth season of the series. Heartland is produced by SEVEN/24 Films and Dynamo Films, in association with the CBC. The series is executive produced by Heather Conkie, Tom Cox, Jordy Randall and Michael Weinberg. Jamie Paul Rock serves as producer on the series.
The landmark 125th episode of Heartland was written by Conkie and directed by Bruce McDonald.
CORRECTION: On Monday, Oct. 20, the CBC issued a correction to the above information, stating that Heartland is the longest-running one-hour drama in Canadian TV history. Previously, the broadcaster stipulated that Heartland was the longest-running family drama. The information has been amended in this story to reflect the correction.