Discovery Canada preps Mighty Ships spinoff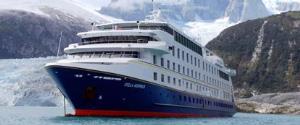 Mighty Ships spinoff Mighty Cruise Ships, which profiles luxury passenger vessels, will sail into the Discovery Canada lineup on Nov. 9.
Produced by Discovery Canada's in-house prodco, EPI (Exploration Production Inc.), the 6 x 60-minute series follows the cruise ships Paul Gauguin, Le Soléal, Azamara Journey, Celebrity Solstice, Stella Australia and the ocean liner Marco Polo on their individual journeys to such hot spots as French Polynesia, the Great Barrier Reef, the Baltic Sea, Asia and Chile.
Each episode will offer a behind-the-scenes look at shipwide operations that aren't often in the view of relaxing vacationers, and in the "Marco Polo" episode, the crew battles a budding hurricane near Northern Europe.
The success of the Mighty Ships, along with the popularity of the cruise ship episodes of the series, prompted EPI to create the Mighty Cruise Ships spinoff, said executive producer Karen McCairley. About 4.6 million Canadians (2+) tuned in to Mighty Ships at some point during the last season of the series, according to Numeris data provided by Bell Media. Mighty Ships has also proved popular in international markets – the series regularly pulls in more than a million viewers per episode on Australia's Channel 7, McCairley said.
"Our sales executive, Tony Leadman, was asking me for a Mighty Cruise Ships spinoff for years before we finally got to work on it. He would come back from international markets and sales meetings with stories about the requests for more cruise ships," she recalled.
The series has already been sold into a number of international markets, including Smithsonian in the U.S., Channel 7 in Australia, and Discovery Channel in New Zealand, the U.K., Europe, and the Pacific Rim.
There is no word yet on whether there will be a second season of Mighty Cruise Ships.
- with files from Julianna Cummins, Playback