Bite On Mondo series to air on Teletoon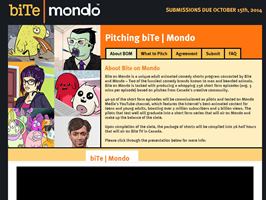 Corus Entertainment's Teletoon channel will broadcast content from the Bite On Mondo animated comedy shorts pitch program in a 26-episode primetime series.
The Bite On Mondo pitch program was launched by Blue Ant, Mondo Media and YouTube last fall. The program aims to find breakout animated content by testing and growing potential hits through Mondo's YouTube subscriber base of over 2.4 million, and Blue Ant's TV and digital properties.
To date, the Bite On Mondo program has received over 500 pitches, and is using YouTube to measure popularity and feedback on the projects to determine if they should be developed into packaged shorts or longer formats. So far, the program has developed 25 pilots, including Don't Feed the Humans and World Doctors. 

For the series, shorts from the program will be compiled into half-hour episodes, said Jocelyn Hamilton, VP of programming and original productions at Corus Kids. The series will air during the Teletoon at Night programming block, and Corus hopes to get the series to broadcast as soon as possible – likely in 2016, or potentially 2015.
"We are always looking for the most innovative and fresh content for today's audiences and Bite On Mondo is just one of our many partnerships that allow us to tap into this generation of content creators," Hamilton told Playback Daily.

The Bite On Mondo program is continuing to accept submissions, with the next deadline set for Nov. 15. Blue Ant will be presenting content from Bite On Mondo for international distribution at MIPCOM this week. The Bite On Mondo program receives funding from the Canada Media Fund.
In other Corus Entertainment news, the company announced last week it has inked a multi-year co-development and production deal with Burbank-based Bento Box Entertainment to create a slate of series for Teletoon at Night. Production on the series will be based in Canada, and are currently slated to debut on Teletoon in 2016. Previous series produced by Bento Box include Bob's Burgers, Brickleberry and The Awesomes.