MIPCOM: Muse to produce The Kennedys – After Camelot miniseries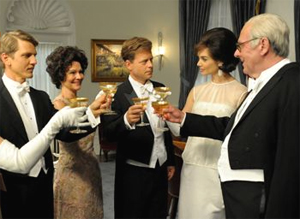 Muse Entertainment is producing a new four-hour miniseries The Kennedys – After Camelot for ReelzChannel in the U.S. market and Corus Entertainment in Canada, it was announced Monday at MIPCOM.
The latest project, to be shot in Toronto, is based on the book After Camelot: A Personal History of the Kennedy Family 1968 to the Present by author and biographer J. Randy Taraborrelli.
Katie Holmes, who starred as Jackie Kennedy in The Kennedys, will reprise that role as Jackie Onassis in the new miniseries.
Holmes will also direct one of the four episodes of the miniseries and executive produce.
Jon Cassar, who directed all eight episodes of The Kennedys for ReelzChannel and Shaw Media in Canada, will direct the other three episodes.
Also sharing executive producer credits are writer Stephen Kronish and Keri Selig, owner and founder of Intuition Productions, who brought the project to ReelzChannel.
Production on The Kennedys – After Camelot is set to begin in spring 2015, with a broadcast debut in 2016.
Muse Entertainment is also handling international distribution.