Eugene Levy on why Canadian comedy doesn't need Americanizing
MIPCOM: Funny is funny, the Hollywood comic actor told Playback Daily while promoting Schitt's Creek to international buyers in Cannes. (Eugene and Dan Levy pictured.)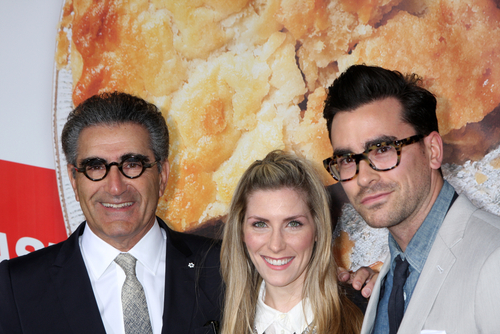 Eugene Levy has some advice for Canadian producers after recent homegrown comedies like City's Seed, CTV's Satisfaction and Global Television's Working the Engels failed to click with Canadian TV viewers.
Forget about Americanizing the Canadian sitcom: funny is funny. Audiences just want to laugh.
"The thing that is first and foremost for me, going back even to SCTV, is to make a show that is truly funny and to make a show where the humour can be appreciated by everybody, not just Canadians," Levy told Playback Daily at MIPCOM where he is promoting his CBC comedy Schitt's Creek to international buyers.
Levy, who teamed with his son Daniel Levy and principals Andrew Barnsley and Fred Levy to form Not a Real Company Productions and make Schitt's Creek, concedes it helps to make a show recognizably Canadian to secure local financing.
"But when your content is Canadian, your show will pretty much appeal to Canadians, but not appeal to anybody else," he added during a sit-down at the Majestic Hotel in Cannes.
There are exceptions to that rule. They're just mostly Canadian-made dramas that have clicked with audiences in Canada and overseas in recent years.
But Schitt's Creek, where a former video store mogul and his family go bust and retreat to a rundown motel in a small town he once bought as a joke, purposefully strives for universal humour.
"It's a show about a family, not a Canadian family, living in a small town, not a Canadian small town. It's not about being from Canada. It's not about being from the States. It's about who these people are, and the humour is humour that everyone can relate to," Levy said.
He adds if dropping a Canadian reference into a Canadian comedy draws laugh, that's good.
That's just not what informed Schitt's Creek, a project created by father and son Levy in which they star alongside Catherine O'Hara, Chris Elliot and Annie Murphy.
"There's… a contentment that Canada has with creating content for itself. And I don't think there's anything wrong with that. That might not translate in the way an American show that's not necessarily based anywhere might have legs overseas," Daniel Levy told Playback Daily.
"But at the same time, there are some shows – again they are dramas mostly – that have legs and travel around the world," he added.
For father Eugene, however, it still comes down to how funny is your funny, for which the Hollywood funnyman recalls his early comedy roots in Canada.
"We're trying to create a show that goes back to what I was doing at SCTV. It may have started as a satirical, Second City-based show, but it turned into a character comedy that was all character. And as broad as some of the parameters may have been at SCTV, we never stepped over the line to get a laugh," Eugene Levy said.
He's proud Schitt's Creek is a Canadian show by a Canadian producer that uses Canadian writers and actors. It's just that it's also universal in its comedic scope.
"It's very human, this show. You just buy into the characters being completely real people," he said.
ITV Studios Global Entertainment is representing Schitt's Creek to international buyers at MIPCOM this week.
Photo: Helga Esteb / Shutterstock.com