Deals: Pacific Northwest, eOne, Nelvana, Breakthrough
Pacific Northwest Pictures picks up the Canadian rights to Liv Ullman's Miss Julie (pictured), while eOne takes the North American rights to Saar Klein's After the Fall.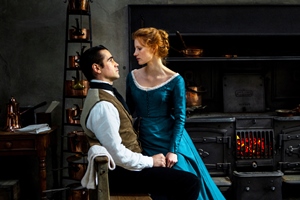 Pacific Northwest Pictures 
Pacific Northwest Pictures has acquired Miss Julie, Liv Ullman's latest film that stars Jessica Chastain, for the Canadian market as part of a deal with Wild Bunch.
PNP will release the adaptation of August Strindberg's classic stage play of the same name theatrically in 2015.
Miss Julie, which debuted at the recent Toronto International Film Festival, also stars Colin Farrell and Samantha Morton.
Entertainment One 
Entertainment One Films has acquired the North American rights to Saar Klein's After the Fall,  which was previously titled Things People Do.
The Wes Bentley and Vinessa Shaw-starrer bowed in Berlin. eOne plans a day-and-date theatrical and VOD release on December 12, 2014.
After the Fall sees Bill Scanlin (Bentley) lose his job and start a life of crime.
Nelvana 
Nelvana Enterprises has sold the CGI animated boys preschool series Trucktown to France Televisions.
The series, comprising 40 half-hours, will air on France 5 on the Zouzous block starting in spring 2015.
Trucktown debuted on Treehouse and on iTunes Canada, and Nelvana has pacted with Spin Master for an ancillary toy line.
Trucktown follows a group of rough and tumble young trucks, and is based on a series of books by kids author Jon Scieszka.
Breakthrough Entertainment
Just in time to set sail for MIPCOM, Toronto-based Breakthrough Entertainment has acquired Pirate Express, a new 2-D animated series produced by fellow Canuck studio Atomic Cartoons and Australia's Sticky Pictures.
Pirate Express (52 x 11 minutes) was commissioned in 2013 by Teletoon in Canada and Nine Network in Australia. This comedy-adventure series follows the high seas adventures of 12-year-old Newt, who captains the Pirate Express and watches over a motley crew of pirates, including former captain LaPoutine.
- with files from Daniela Fisher, Kidscreen
See below for other pre-MIPCOM deals closed this week: