Playback 2014 Canadian Film & Television Hall of Fame: Denise Robert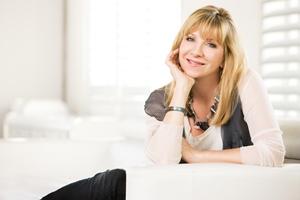 Each year, Playback's advisory board selects several directors, producers, actors and industry builders who have made significant contributions to Canada's film and television industry to induct into our Hall of Fame. This year, instead of releasing the full 2014 Hall of Fame lineup all at once, Playback will be feature profiles on individual inductees in each of our quarterly issues. On the digital side, Playback will also be compiling a video archive where readers can learn more about those named to our Hall of Fame. Here, we profile our first Hall of Fame honoree, Denise Robert. 
It all started with Doctor Zhivago.
Like many girls in the '60s, producer Denise Robert was captivated by Julie Christie on screen. The beauty, glamour and impossible romance: it was, in so many ways, larger than life.
"I thought, this is fantastic – this is how I see things in my head!" Robert remembers fondly. "That's where I started dreaming of working in film."
Canada should perhaps thank Christie for the inspiration, because that moment sparked one of Canada's most successful film and television careers.
This summer, Robert saw the latest of her many collaborations with husband Denys Arcand go to screen with comedy Le vrai du faux (Right from Wrong), which by press time had done half a million dollars at the Canadian (mostly Quebec) box office in just over a month. It's the second film released by Cinémaginaire, the production company she runs with fellow producer Daniel Louis, this year; the first being another Arcand film, Le règne de la beauté (The Reign of Beauty).
Those two films top an IMDb list of staggering proportions: almost 50 films (not including TV) since 1988, the year she launched Cinémaginaire with Louis.
The partnership has been one of the most fruitful in Canadian film history. On Cinemaginaire's list are Canadian classics that include 2003′s Oscar-winning Les Invasions barbares (The Barbarian Invasions) and Mambo Italiano; 2005′s The Rocket: The Legend of Rocket Richard; 2007′s Surviving My Mother and 2009′s Fathers and Guns.
And her influence extends far beyond Canada. Robert is a voting member of three international academies, including the Academy of Motion Pictures Arts and Sciences (Oscars) in the U.S., the British Academy of Film and Television Arts (BAFTA) and the Académie des arts et techniques du cinéma (César) in France.
France especially is a fan, granting her and Louis the Chevalier de l'Ordre des Arts et des Lettres (Order of Arts and Letters) for their promotion of French culture worldwide.
The honour was mirrored this year in Canada, when Robert was granted Canada's highest civilian honour, the Order of Canada, for "her role in asserting and helping to develop Quebec cinema as one of the most respected producers in Canada." She is also the recipient of the Chevalier de l'Ordre de la Pléiade, National Assembly of Québec in 2005 and in the same year, received an Honorary Doctorate from the University of Ottawa.
For Robert, producing film and television is the perfect marriage of art and commerce. "I've always felt very comfortable in the business world but I always wanted to be an artist," she says. Giving up a teenage dream of becoming an actor, she started her career in Ottawa, taking contracts with arts organizations and spending a lot of time at the theatre. Moving to Montreal in 1984, she joined SODEC on a contract, getting a crash course in the film financing business.
Shortly after leaving SODEC, then-up-and-coming director Léa Pool asked Robert if she would produce her film À corps perdu (Straight for the Heart). Hitting a home run right out of the gate, À corps perdu was selected to compete at the Venice Film Festival, vaulting Robert into the glamorous life in film she'd imagined as a young girl: "I thought 'oh my God! I could go to Venice and drink Bellinis! This is so easy!'" she says with a laugh.
But the following film, Leos Carax' 1991 film Les amants du pont-neuf (The Lovers on the Bridge) did its best to bring Robert back down to earth. Calling the film "the worst fiasco in French film history," she embarked on "four years of hell" trying to get the film made as a coproduction against unending on and off-set drama.
"That's where I really learned the business," she says. "Before you sign with anybody you need to do your homework. Some directors you are better to pay for a movie ticket and just go and see their film – others are worth working with."
Armed with her newfound savvy, she then negotiated the first interprovincial coproduction in Canada for 1992′s Montreal vu par, kick-starting a career that soon saw her producing two to three films a year from 1997 onwards. In that time, she's worked with all types of filmmakers – veteran and up-and-coming alike.
"Denise has a passion for the art of cinema and a savvy approach to the business of film," says TIFF executive director and COO Michèle Maheux. "Her work with seasoned cineastes as well as emerging young filmmakers is inspirational and has established her as a true force in the international film industry."
A career highlight for Robert is also a high point for Canadian film: the 2004 Oscar nominations and wins for Les Invasions barbares, written and directed by Arcand. Not only did the film win in the Best Foreign Language film category, it earned a nomination in the Best Original Screenplay category, thanks in no small part to Robert's fight with the Academy to get the film recognized as an original, rather than adapted, screenplay. (The Academy argued that since the film was based on characters from Arcand's The Decline of the American Empire, it did not qualify as an original.)
"I'm very proud of Barbarian Invasions because Denys was nominated in the Best Original Screenplay category," she says. "The nominations in that category are almost always Anglophone screenplays – and this a French-language screenplay nominated amongst the best."
However, she says her proudest achievement is being a part of the 2005 documentary Les voleurs d'enfance (Thieves of Innocence). Directed by Paul Arcand, the provocative film investigated Quebec's youth protection system and its impact on children. The film sparked a public debate and did almost $2 million in Quebec box office.
"It changed the way the state treated kids," Robert explains. "Of that I'm very proud, because it changed something in our society."
Pivoting from French to English, from features to documentary, from comedy to the darkest drama, the common thread through Robert's career is a love of the game. When she's working on a film or a series, she's "300%" on that specific thing, she says, and when she's done? "I close that file and I'm 100% on the next."
"I feel very privileged to be doing the work I love," she says. "I love it as much as the first day I did it."