The New Establishment: Michael Grassi
This writer and producer had the industry abuzz before he even landed his first TV writing gig - and now he's one of Canada's most talked-about up-and-coming showrunners.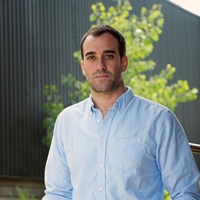 Playback's returning editorial feature, The New Establishment, showcases outstanding talent in the Canadian film and TV industry. Complementing our 5 to Watch, this series profiles individuals who have already established themselves in the industry and are continuing to succeed, representing unique success in their field, great achievement or new ways of doing business.
Not many people make the jump from a junior role to showrunner within one season on a major network original series – but that's exactly what Michael Grassi did on Lost Girl.
"We refer to him here as the Wunderkind…it was just an amazing thing to watch," describes Grassi's literary agent Jeff Alpern, founder and CEO of The Alpern Group, of Grassi's rapid rise.
While Alpern usually picks up writer clients via script submissions, Grassi was brought to his attention in a different way. Over and over again, industry people were telling Alpern he had to meet a certain cheerful – but very intense and hardworking – writer named Michael Grassi, who at the time was working in CTV's development department.
"There were two things about him that really impressed me. He had this incredible, cheerful likability. The other thing was that as we started to talk and work together, he had this very can-do type of spirit," Alpern said.
Grassi landed his first TV writing job with Epitome's Degrassi: The Next Generation, where he worked his way up from story coordinator to a co-executive producer role over five seasons. Along the way, Grassi earned a Peabody Award and a Primetime Emmy nomination for the Degrassi episode "My Body Is A Cage," which introduced the transgender character of Adam Torres to the series.
"We were hearing more and more about transgendered youth that were coming out in high school at such a young age, and it was a story that had never been done on TV before," Grassi said. He said the goal was to introduce a character and a storyline exploring these issues that could be featured throughout the series, rather than just a one-off episode.
"We thought Degrassi was the perfect place to tell this story," Grassi said.
After spending five years on the set of Degrassi, Grassi says he wanted to move into one-hour dramas, preferably within the alt-genre space. Grassi then wrote a one-hour drama pilot script which was reviewed by Emily Andras, who was then the showrunner of the series and decided to bring Grassi on board the series.
Within just one season, Grassi managed to jump ranks from consulting producer to executive producer and showrunner on Lost Girl, which airs on Shaw Media's Showcase and Syfy in the U.S. He said he was excited to play such a major role in the fifth and final season Lost Girl and wrap up ongoing storylines, while still aiming to keep the season feeling fresh.
"With those challenges, the whole entire story department really stepped up to deliver," Grassi said.
In addition to his work on Lost Girl, Grassi also recently spent time in the writing room for the upcoming CBC series Schitt's Creek and is developing a one-hour drama with marblemedia and Epitome Pictures. After Lost Girl wraps, Grassi said he wants to focus on working on more of his own projects.
"I have always been a storyteller first and foremost, and T.V. has been the best place to make it happen for me," Grassi said.