Audrey Cummings' Berkshire County wins top prize at Shriekfest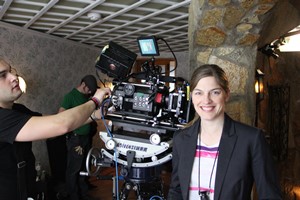 Berkshire Country, the debut feature film from Canadian director Audrey Cummings, has picked up the Grand Jury Prize for best horror feature film at Shriekfest.
The win marked the first time the horror festival's 14-year history that a film directed by a woman won the Grand Jury Prize. Berkshire Country was awarded top prize earlier this week following the film's world premiere at the LA-based festival.
Berkshire County tells the story of a teen girl whose night of babysitting at an isolated country home takes a turn for the worse after a small boy in a pig mask appears at the door looking for candy.
The film stars Alysa King, Samora Smallwood, Bart Rochon, Aaron Chartrand and Robert Nolan. Cummings also served as a producer on the film, along with Bruno Marino. Berkshire County was written by Chris Gamble, and executive produced by David Miller and Tony Wosk.
The film is distributed in Canada by A71 Entertainment, and has not yet been sold internationally. Upcoming festivals that Berkshire County is set to screen at include Phoenix Fearcon, the Freak Show Horror Festival in Orlando and the Razor Reel Flanders Film Festival in Bruges.