Nelvana, Spin Master pact on girl-skewing preschool series
Nelvana Enterprises and Spin Master are developing Little Charmers, a new girl-skewing CGI preschool series set to debut on Treehouse and Nickelodeon in 2015.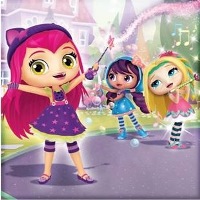 Nelvana Enterprises is turning up the charm with Spin Master to co-develop a new girl-skewing CGI series that will debut on Treehouse in Canada and Nick Jr. worldwide early next year.
Little Charmers is an 80 x 11-minute series following the friendship of charmers-in-training Hazel, Lavender and Posie. Aimed at girls ages two to seven, the show will have a complementary toy line led by dolls, playsets, apparel and accessories that Spin Master plans to roll out in fall 2015.
Little Charmers marks Spin Master's first foray into girls entertainment. The company previously partnered with Nelvana on its boys anime series Bakugan, for which it has spawned a range of licensed products including action figures and battle vehicles.
In other Spin Master news, the toyco recently announced a digital venture with webtoon distributor Mondo Media to create a YouTube channel for kids called Spindo TV.
- From Kidscreen