Quebec VFX studios launch promotional website
Local studios look to woo local and foreign producers, even as the province cuts film subsidies.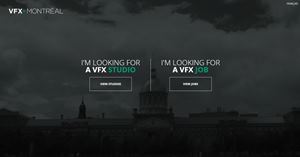 When Hollywood movies choose to do substantial visual effects work in Montreal, Vancouver or Toronto to tap local subsidies, a foreign VFX producer like Cinesite or Framestore often open up satellite offices in those cities.
So, faced with recent cuts in government subsidies for local VFX production,  the Quebec Film and Television Council has launched a new website to promote the province's visual effects industry with foreign and local producers.
VFX-Montreal is the result of a collaboration between 17 Montreal VFX and animation studios looking to woo film and TV producers with projects who need information on local services and tax credits, or VFX talent interested in working in Montreal.
The local VFX and animation players include Rodeo, Cinesite, Oblique, MPC and Framestore.
The cash-strapped Quebec government in June 2014 cut its labour-based film tax credits by 20% in value.
In Quebec, as elsewhere, film tax credits grease the wheels of local and foreign production, even as governments look to cut costs where possible to balance budgets.