Thinking outside the box: new strategies in home entertainment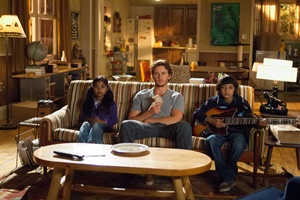 This story originally appeared in Playback magazine's Fall 2014 issue. Click here to read part 1. 
Growing pains 
When a distributor in a given territory acquires a film, it must negotiate its licence-fee percentage for all platforms with the production company. Going further down the chain, A-list directors will have a profit-participation clause in their contracts for residuals for home-entertainment sales. But nobody is seeing as much as they should in this transitional time.
Producer Don Carmody laments the golden age of discs, and feels opportunities are not being maximized because the home-entertainment window is too short. Studio movies tend to appear on disc and VOD four months after their theatrical launch, while premium broadcast outlets such as The Movie Network can get them on air just three to six months after that.
The premium VOD (PVOD) platform, to which exhibitors vehemently object, allows for a movie to be viewed before or during its theatrical launch for anywhere from $7.99 to $30. Carmody and his producer partners went this route with Magnolia Pictures for 2012′s Goon, but learned audiences for youth-skewing movies won't pay those prices.
"So they just stole it," Carmody says. "BitTorrent went crazy a day after the PVOD release. The copies are pretty pristine with the bandwidth available these days. The RCMP called us and said 'You're being pirated like mad.'" He adds that once the film became available in standard VOD and on iTunes, the piracy largely stopped.
But even the cost of VOD rentals, around $5.99 for HD, is prohibitive to many consumers and, according to Rentrak, has kept the platform's revenues in the U.S. flat for years.
Redbox's blockbuster business
Remember the sprawling floor-space, stocked shelves and Friday-night line ups at Blockbuster video stores? They may be but a memory following the franchise's bankruptcy, but the disc-rental business remains significant, if only half what it was in 2005. Its endurance can be chalked up to the fact it's cheaper than VOD.
Consumers continue to use Netflix's mail-order rental service as well as mom-and-pop shops that outlasted Blockbuster. But Rentrak estimates half the physical rental business in the U.S. goes to kiosks operated by Redbox, which has 45,000 machines at American department stores and gas stations. The company launched in Canada in 2012, a decade after the U.S., and does not yet have the same level of penetration, but with around 1,400 machines, is growing. Avoiding Blockbuster's bricks-and-mortar overhead, Redbox offers DVD rentals for $1.50/day and $2 for Blu-ray.
Redbox buys its rental inventory outright from distributors, paying a premium price per disc rather than striking a revenue-sharing arrangement. While it sticks to popular new releases, Canuck copros have made the cut if they boast an international star – such as the Canada/Spain drama Enemy starring Jake Gyllenhaal (a Redbox top-10 renter in the U.S.) – or world-class special effects, such as Carmody's Canada/Germany adventure flicks The Mortal Instruments: City of Bones and Pompeii. All these titles are distributed in Canada by eOne.
Redbox also has purchased direct-to-video product – mostly for the U.S. market – from Phase 4, and stocks French-Canadian titles in its newly launched Quebec machines. Ron Cihocki, Redbox's country manager for Canada, says, "We look at this as a North American business, and if there's something we think can drive that – Canadian or American – we take a hard look at it."
Cineplex builds online footprint
The bottom line is that packaged media's combined sales and rentals – despite their downward trending—still make up the biggest piece of the home-entertainment pie. Their combined US$11.8 billion value in 2013 still outperformed the North American box office's record US$11 billion year. (Ten years earlier, the US$24 billion disc business towered over a US$9.3 billion box office.)
And that is why Cineplex, which commands a 77% market share in Canadian exhibition, jumped into home entertainment five years ago. Its online Cineplex Store began selling DVDs and Blu-rays and in 2010 added digital offerings. It rents and sells digital downloads in HD and SD.
The company insists it is not cannibalizing its core business of putting bums in seats.
"Our initial research indicated that 50%-60% of DVDs were being sold to people who had already seen the movie in a theater," says Cineplex COO Dan McGrath. "We were going after them, not the Walmart customer who typically hasn't seen the movie."
Cineplex won't divulge revenues for its fledgling home-entertainment business, but forecasts significant growth in the next three-to-five years as it plans to offer up to 7,000 titles, which now also include TV content on DVD and Blu-ray. In its short lifespan, however, the Cineplex Store has seen its digital business rise to par with disc sales (figures for percentage of Canadian content in the Cineplex Store were not available from Cineplex).
And so it is doing more around digital download, such as offering a "Super Ticket" that bundles downloads with cinema admissions. This summer, Toronto moviegoers could have paid $22.59 on top of their ticket to 22 Jump Street to get an SD digital copy of the movie, and its prequel 21 Jump Street, on pre-order. McGrath says that while the Hollywood studios support such strategies, Cineplex is constantly negotiating with them to keep the costs down to an attractive price point for customers.
For distributors, selling a movie ticket remains preferable to a digital or VOD rental. They might see a bigger percentage split from a rental than the 45% they might get from a movie ticket, but if that ticket costs $13, their share is $5.85, which is near the high end of VOD rental price.
But the digital world remains attractive to Canadian producers and distributors, because while home-grown movies struggle to make it onto theater screens, there are no limits on screen availability in cyberspace. But it's a matter of grabbing their attention. In that sense, McGrath feels a film's theatrical run is still crucial, and that home-entertainment success relies on how much a distributor is willing to market the big-screen launch.
Distributors and filmmakers will gladly jump aboard these growing online vendors while continuing to get their product out there through traditional bricks-and-mortar retailers. Berry Meyerowitz, president of  eOne's U.S. film and distribution division, sees the ever-more fragmented home-entertainment landscape as a land of opportunity, adding, "This is a positive for Canadian content providers, as there are many more outlets and mediums available to target unique and specialized content."