Ruba Nadda's October Gale gets U.S. distribution
IFC Films picked up the indie thriller after a world premiere at the Toronto International Film Festival.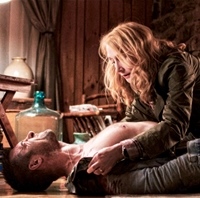 IFC Films is reteaming with Ruba Nadda and Patricia Clarkson by taking the U.S. distribution rights to the Canadian director's latest movie, October Gale.
The deal with Myriad Pictures, which is handling worldwide sales on the film, follows a world premiere for Nadda's psychological thriller at the Toronto International Film Festival.
October Gale, written and directed by Nadda, stars Patricia Clarkson, Scott Speedman, Tim Roth and Callum Keith Rennie and was produced by Blue Ice Pictures.
IFC Films also distributed Nadda's Cairo Time, another Patricia Clarkson-starring drama.
In October Gale, a doctor (Clarkson) takes in a mysterious man (Speedman) when he washes ashore at her remote cottage with a gunshot wound, and soon discovers that his would-be killer, played by Roth, is on his way to finish the job.
The U.S. distribution deal was negotiated by Jay Cohen at Gersh Agency, acting for IFC Films, and Myriad Pictures' Kirk D'Amico for the filmmakers.
October Gale is produced by Daniel Iron and executive produced by D'Amico, Christine Vachon, Emily Alden, Lance Samuels, Steven Silver and Neil Tabatznik.