Thinking outside the box: new strategies in home entertainment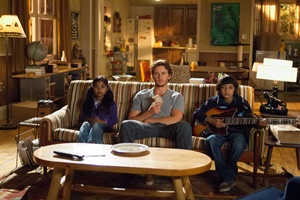 This story originally appeared in Playback magazine's Fall 2014 issue; it is running as a two-part feature in Playback Daily on Oct. 2 and 3.
Despite an overall decline in the home-entertainment industry due to slowing disc sales and rentals, Canadian distributors are growing by altering their acquisition strategies and stand to benefit from the more favourable margins of digital downloading and video on demand (VOD).
In a show of bullishness, this spring Entertainment One (eOne) bought Toronto-based distributor Phase 4 Films for a total consideration of $27 million. Phase 4 brings with it kids and family division kaboom! Entertainment – which co-created a DVD label featuring the Treehouse channel brand – and Canadian distribution agreements with Shout!Factory and The Criterion Collection.
"Phase 4 brings direct access to key partners in the U.S. such as Comcast, Dish Network, Costco and Walmart," former Phase 4 principal Berry Meyerowitz, now president of eOne's U.S. film and distribution division, says of the deal. "This represents the next phase of growth for eOne's U.S. operations."
eOne will focus on content for VOD, DVD and digital release in the U.S., he adds, while shifting from art-house to more commercial fare. Examples include last year's modern Western A Night in Old Mexico, starring Robert Duvall, and Miss Meadows, a dark comedy featuring Katie Holmes. Meyerowitz expects this marriage also will help eOne penetrate the U.S. market with Canadian content.
eOne's expansion comes amidst a shrinking overall disc business. According to Portland-based media-measurement firm Rentrak, 2013 disc sales in the U.S. tallied US$7.8 billion and rentals amounted to US$4 billion. Combined, that is down US$12.2 billion from 2003-04.
Meanwhile, streaming – including Netflix's subscription video on demand (SVOD) service – rang up US$3.1 billion, while digital download sales and rentals through the likes of iTunes tallied US$2.2 billion, and cable and telco VOD generated US$1.2 billion. Rentrak says Canadian figures usually account for 9%-12% of U.S. totals.
"The consumer is spending less at retailers like Walmart and Best Buy and gravitating more towards Netflix or buying and renting movies on iTunes, Amazon or Vudu," says Chris Roberts, Rentrak's SVP sales of on demand everywhere. "But sadly, digital over-the-top distribution platforms have not replaced the losses from packaged media. We're short overall [$5.7 billion from 10 years ago]."
That decline can be attributed in part to online piracy and bootleg discs as well as a saturated disc market. The superior quality and functionality of DVD over VHS lit up sales after the format's 1995 arrival, but when Blu-ray came to market in 2006, it didn't have the same impact.
But Blu-ray is growing. According to Nielsen Entertainment, the format accounted for 24% of packaged media sales in Canada in 2013, up from 13% in 2010, while annual unit sales were up more than 7%.
"Sales of movies and TV shows on Blu-ray disc continue to help off-set the decline in DVD," says Lauren Kobel, Nielsen's Hollywood-based director of client services and business development. But Blu-ray's uptick doesn't entirely make up for flagging DVD sales, which were down 12% in Canada in 2013 over 2012, and margins are lower for Blu-ray due to greater authoring and replication costs.
However, the most resilient genre – family entertainment – saw growth of 25% in the U.S. and 23% in Canada from mid-2013 to mid-2014 (DVD and Blu-ray combined). That's the kind of business that had eOne eyeing Phase 4′s kaboom! label, which offers a plethora of family titles ranging from the Air Bud series to the religion-themed What Would Jesus Do? As Meyerowitz states, "Our DVD business has been increasing steadily due to the content we are delivering."
VOD and EST 'a beautiful thing'
Andrew Frank, VP, sales and acquisitions at distributor Mongrel Media, sees an opportunity for Cancon in this breadth of platforms. "If it's a good Canadian film, it can do well," he says, pointing to the Oscar-nominated child-soldier drama War Witch. While declining to provide the movie's home-entertainment revenue, he reveals that 60% of its business has been in VOD and digital download.
And it's not only that title: in the first half of 2014, Mongrel's overall combined business from VOD and digital download surpassed DVD – which is desirable, because the margins are better. "There is no cost of disc-authoring, replication, shipping and returns," Frank notes. "You deliver one time, somebody rents or buys the title and it's a beautiful thing."
And that's the way it's going. Rentrak reports that digital-download spending in the U.S. increased by about US$600 million in 2013 over 2012, while streaming increased by US$700 million, which together more than offsets a US$1.1 billion million drop in disc sales and rentals in the same period.
Frank adds that DVD nonetheless continues to perform for Mongrel, with sales at mid-2014 up more than 40% over the previous year. That's attributable to a new focus on more mainstream entertainment, including cast-driven comedies for twenty- and thirtysomethings, such as Kristen Wiig-starrer Girl Most Likely and Thanks for Sharing featuring Gwyneth Paltrow.
Mongrel's growth will continue following an agreement this year to release the StudioCanal library in Canada, titles including the Rambo trilogy and Terminator 2: Judgment Day. Frank says Mongrel struck "a pretty big deal" to place these Sylvester Stallone and Arnold Schwarzenegger titles on Netflix to coincide with the actors' appearance in The Expendables 3, which opened Aug. 15.
For titles that seem way off the distributor's traditional art-house brand, it has spun off the genre-based M.O. label for horror, sci-fi and thrillers, and GoodFilm, offering dramas friendly for ages eight to 80. "We don't have to worry about people wondering 'Why is Mongrel releasing that movie?'" Frank explains.
Digital-download sales still represent the smallest piece of the home-entertainment pie for Mongrel, but expectations are high. Depending on whether a title is new-release or catalog, iTunes will take an estimated share between 30% and 50%. "They take a pretty sizable cut for new releases, but it's less than a movie theater does, and they bring you a lot of eyeballs," Frank says.
Of course, distributors dream of selling titles directly to consumers and bypassing third-party vendors, but for Mongrel that hasn't been viable. It set up websites to sell DVDs of Wim Wenders' 2011 dance doc Pina and the 2010 race-car-driver bio Senna, but, as Frank says, "They did no business. Our take-away was that customers don't know Mongrel, so why would they give us their credit-card data that's already saved with a company like Apple or their cable company, where there's a trust level and the cost is the same?"
Look for part two of this story in Friday's edition of Playback Daily