The New Establishment: Andrew Barnsley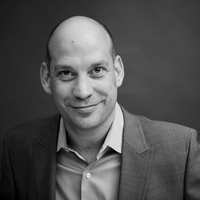 Playback's returning editorial feature, The New Establishment, showcases outstanding talent in the Canadian film and TV industry. Complementing our 5 to Watch, this series profiles individuals who have already established themselves in the industry and are continuing to succeed, representing unique success in their field, great achievement or new ways of doing business.
Andrew Barnsley knows how to play off his strengths.
"I am a big believer in collaboration – I am not a creator, I'm not a showrunner, I'm not a writer. I focus on the executive producing and financing and those relationships and responsibilities," Barnsley said.
Those skills have been put to the test in the last few years, as Barnsley has developed and produced half-hour comedy Spun Out for CTV (now heading into its second season) through the prodco he runs with Kevin Foley and Vernon Wells, Project 10 Productions, as well as executive producing CBC's upcoming Schitt's Creek, starring and co-created by Eugene and Dan Levy.
On the unscripted side, Barnsley is executive producing docu-series Sports on Fire. The six-episode, half-hour series, set to air on The Movie Network and Movie Central next year, is produced by Project 10 Media and Two 4 The Money Media, in association with The Movie Network and Movie Central.
Barnsley's recent hot streak can be attributed not just to a well-honed work ethic, say his colleagues – he's also a natural manager and adept at getting his teams to perform at their peak.
"[Those] last three projects were done back-to-back, and are all very smooth productions," said Colin Burton, a producer/director who is currently working with Barnsley on Schitt's Creek. "Creative, hard-working, and down-to-earth, Andrew's special talent is his ability to navigate the mounds of paperwork flawlessly, and his instinct for hiring the best people, and simply allowing them to do their jobs."
Barnsley, 39, got his start in the industry working on a feature film titled Prey with Paul Pogue as part of a Master's degree Barnsley was completing in a joint program in  communications and culture at York and Ryerson University. Through Pogue, Barnsley met Jane Ford, and struck up a partnership with her that led to the creation of Listen Missy, a half-hour sketch comedy show that aired on W Network and was executive produced by Hamilton-based S&S Productions (The Red Green Show, Hotbox, An American in Canada).
At S&S, Barnsley learned more about the practical side of executive producing, honing his skills in completing funding applications and tax credit forms. In 2009, he left S&S to join Project 10 Productions, where he was brought on as partner in the company's first year. His strategy continues to be focusing on finding creative teams he works well with, and leveraging his relationships to get projects he is passionate about to air.
"I have strong relationships with broadcasters….I get a sense of when the timing is good to pitch, and then I line that up with my relationships on the creative side," Barnsley said.
He has proven his executive producing prowess particularly well in the realm of comedy, but readily admits the genre is a challenging one.
"What we have discovered is when you are putting the financing together on dramas – there is more of a global appetite for that. Comedy has to be so culturally specific that when you're looking to the international side to help with the financing, it's more challenging," Barnsley said.
With this in mind, Barnsley said he's always evaluating the international appeal of the series he is executive producing and aims to make "global shows." When it comes to where comedy is made, however, Barnsley said he wants to see more coming from Canada. He hopes the success of Spun Out, which was greenlit for a second season, and Schitt's Creek (set to air on CBC in 2015) will help to elevate the comedy game in Canada.
"Comedy is important. It's important to the industry, but it's also important to a culture and to a society. People need to have that escape, they need to laugh," Barnsley said.