ABC's Mistresses moving to Vancouver prompts lead to exit
Alyssa Milano (pictured) insists family comes before relocating production for "financial reasons."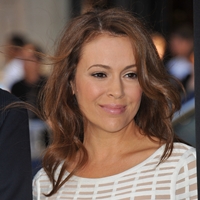 The ABC and CTV series Mistresses shifting from Los Angeles to Vancouver for its third season shoot has prompted the exit of lead star Alyssa Milano.
"It's with a heavy heart that I have decided that I can't relocate," the Hollywood star said on her website after indicating ABC had moved production for "financial reasons."
Milano insisted family came before tax credits.
"I have two babies under 4. Being a mother and wife comes first and I just can not uproot my children and separate the family by moving away," she added.
Milano co-stars in Mistresses alongside Yunjin Kim, Rochelle Aytes and Jes Macallan.
ABC renewed the summer show for a third season on Tuesday.
- Alyssa Milano image courtesy of Shutterstock