Netflix takes on theater window with first day-and-date feature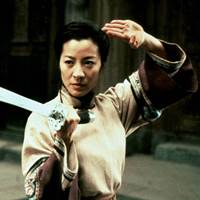 Netflix has partnered with The Weinstein Company on a sequel to martial arts fantasy Crouching Tiger, Hidden Dragon, which will premiere globally on the streaming platform and in select IMAX theaters on Aug 28, 2015.
Malaysian actress Michelle Yeoh will reprise her role as warrior Yu Shu Lien in the film, titled Crouching Tiger, Hidden Dragon: The Green Legend. It will hit Netflix and theaters at the same time, making it the first major motion picture to launch day and date on both platforms.
Released in 2000, the original was a U.S.-Chinese-Hong Kong-Taiwanese coproduction, directed by Taiwan-born, U.S.-based Ang Lee. Made for $17 million, the Mandarin-language film (with English subtitles in the U.S.) won 4 Oscars from 10 nominations, and earned $176.8 million in North America, making it the highest-grossing Chinese-language film in domestic box office history.
Woo-ping Yuen will direct the sequel, which will have a substantially larger budget.
Netflix has 50 million subscribers in more than 40 countries; IMAX is headquartered in Toronto with 837 theatres in 57 countries.
From Stream