Corner Gas production execs Brent Haynes and Louise Clark reunite
The former Comedy Network topper inks a first-look deal with Lark Productions. (Corner Gas cast pictured)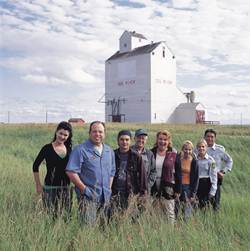 Former CTV production executive Brent Haynes has returned from five years with MTV in New York City and launched his own production shingle, Picture Arcade, based in Vancouver and Los Angeles.
Now Haynes has reunited with fellow Corner Gas production exec Louise Clark by inking a first-look deal with her production shingle Lark Productions.
The duo will look to produce new scripted series for North American and international broadcasters.
Haynes was VP of programming at The Comedy Network before heading to MTV where he was most recently SVP of comedy and animation, overseeing production on about 20 series.
Lark Productions, launched by Clark in 2010 in Vancouver, has among its TV credits Motive for ABC and CTV, Slice's The Real Housewives of Vancouver and Gastown Gamble for OWN Canada.