The New Establishment: Zach Lipovsky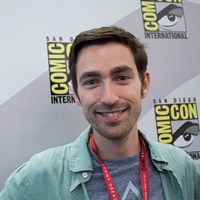 Playback's new editorial feature, The New Establishment, is a returning series showcasing outstanding talent in the Canadian film and TV industry. Complementing our 5 to Watch, this series profiles individuals who have already made a mark on the industry and are continuing on an impressive career trajectory, representing unique success in their field, great achievement or new ways of doing business. We kick off our series with a profile on producer, director and mobile app creator Zach Lipovsky. In a media environment in which diversification is key to survival, Zach Lipovsky is operating on a micro scale with a similar strategy used companies like Lionsgate on a macro scale.
At just 30 years old, Lipovsky already has a deep resume that includes actor, entrepreneur, app creator, director, producer and VFX specialist.
"I just try to have things I am really passionate about and have as many of them [going] as I can keep track of – because you never know which one is going to go," Lipovsky told Playback Daily of his packed and diverse project slate.
In addition to directing two feature films and producing another within the past several years, Lipovsky, was recently named the director of Dead Rising, a feature film from Legendary Pictures, Contradiction Pictures and Buenaventura Pictures based on a video game franchise of the same name.
On the development side, he's working with Toronto's Rhombus Media on a film project about the war of 1812, which will be shot in a comic-book style similar to 300, Lipovsky said.
And in his spare time, Lipovsky runs Reels Apps, the company he founded alongside his Shot List app, which he created to help filmmakers manage their shot lists while on set. Recently, the company attracted investment from Microsoft to feature the app across Microsoft platforms.
With his diverse skill set and background, Lipovsky said he always strives to put a unique spin on his projects. For example, with Dead Rising, Lipovsky said he plans to make use of small cameras and drones to create dramatic shots on a smaller budget. His background in VFX helps him be creative in effects planning and executing, creating interesting effects without breaking the bank.
"It helps you realize what can and can't be done within your budget, and more importantly allows you to think of things that you know are easy to do but will be spectacular," Lipovsky said.
While Lipovsky's career clearly has momentum today, his success didn't come without its struggles. Lipovsky burst onto the world stage after his short film Crazy Late, which won Vancouver's Crazy 8 short film competition, helped to land him a spot on On The Lot (2007), a reality competition series produced by Steven Spielberg and Mark Burnett. One of the youngest filmmakers on the show and the only Canadian, Lipovsky finished fifth overall.
Things were looking promising for Lipovsky, but trouble struck a year later when the writer's strike and recession hit Hollywood.
"It was a tough time. It was basically the best break in the world and then right into the writers' strike and then right into the recession. All filmmaking ceased to exist for the next two years," Lipovsky recalls.
Despite having American representation, and a bit of buzz to support him, Lipovsky says he couldn't get any projects greenlit because of his then-thin resume, using the down time instead to better understand the U.S. film business.
He also learned to use his Canadian passport to his advantage stateside, using his Canadian connections to land his first first Hollywood directorial feature film in late 2012 with the Vancouver-shot Syfy MOW Tasmanian Devils. That in turn helped him to land his first studio film, a reboot of the Leprechaun franchise from Lionsgate and WWE Studios, which was released earlier this month and was also shot in Vancouver. Keeping tabs on both sides of the border has been a boon to his career, he notes.
"You have to be [in L.A.] to get the job to come home," Lipovsky said.
More recently, Lipovsky was a producer on Afflicted, a Canadian found-footage film that debuted at TIFF in the popular Midnight Madness sidebar. Following the festival, the film was sold to Sony and CBS.
His goal going forward is to create commercially viable Canadian films.
"I really want to be able to start making 100% Canadian projects that are commercial and have the legs to be seen by the whole world," Lipovsky said.
Lipovsky is represented by in LA by Adam Levine at Verve Talent and Literary Agency, by Ben Silverman with Integral Artists in Vancouver and by Carl Liberman in Toronto with Characters Talent Agency. Lipovsky's manager is Scott Glassgold with IAM Sports & Entertainment.