Adventures in multi-cam: The Stanley Dynamic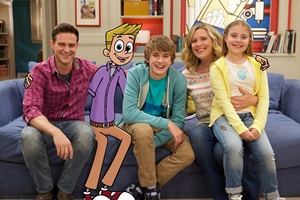 In the cavernous depths of Revival Studio in downtown Toronto, an experiment is taking place.
In place of bubbling Bunsen burners, four cameras and an iPad.
The mad scientist? Showrunner Ken Cuperus.
The hypothesis? That you can bring an animated character to life in a live-action multicam world.
Co-created and developed by Cuperus, Jamie Piekarz, director of content, YTV, Treehouse, and Nickelodeon Canada and Jocelyn Hamilton, VP programming and original productions at Corus Entertainment, The Stanley Dynamic is a multi-cam family sitcom with one special element: a 2D animated character integrated as part of a live-action family.
The series follows the Stanleys, a normal family with a mother, father (a cartoonist, natch), daughter and 14-year-old twin sons. Only one of the sons, Luke, is a cartoon.
Luke's animated state is never acknowledged by the other characters, but bringing him to life has been a unique and complex challenge for Cuperus, Corus, indie producer Amaze Film & Television and animation studio 9 Story.
The Stanleys were born out of a brainstorming session for a Full House or Family Ties-style show for YTV. "There was a lack of projects being pitched to us that didn't involve kids out of the school environment," explains Piekarz. "We wanted an environment you could populate with adults and kids."
They hit upon the idea of a family with one child as an animated character with the caveat that he's just a regular kid. Instead of focusing on Luke as being unique, the plot revolves around the average-family issues the Stanleys face: affording private school for a genius daughter, mom's return to work, and regular 14-year-old boy stuff.
"We all fell in love with [the idea] and started talking about whether it was doable," explains Cuperus. "It's a whole different challenge to do a show with an animated character as a single cam show then as a multi-cam show."
Toronto's Amaze Film + Television was brought on as producer and 9 Story as animation producer, and together with Cuperus, the team spent six months creating a two-minute test to see how they could bring an animated character to life in a live-action, multi-cam setting – all on an "average" sitcom budget. (Corus declined to disclose the series budget; Kidscreen estimates peg the average youth sitcom budget at $250,000-$300,000 per ep).
To keep the series on budget, it was decided to create Luke as a 2D animated character, avoiding the costs of complex 3D animation. And outside of Luke himself, there are no "big gags" to eat up budget, says Cuperus.
"Our big gag is Luke," he says. "We found that we're able to work within a traditional sitcom budget, just by that very fact. Some episodes have more Luke, some have less – you just have to manage your finances like anything else."
"We keep the costs in line because Ken knows animation," confirms Piekarz, referencing Cuperus' production experience, which includes an early stint at Nelvana and more recently, Thunderbird's Mr. Young.
Visting the set, the challenge of integrating Luke is clear. Voice actor Taylor Abrahamse (Luke), first runs through the scene with Luke's mother and her frenemy, Pam (Josette Jorge) to establish sightlines and rhythm.
Series animation director Leslie Thomas sits behind the main monitor, holding an iPad on which "Animated Luke"'s role in the scene is composed. As the live actors run through the scene, Thomas provides running feedback on whether or not what is happening on set will translate once the animation is added in – every camera pan, every motion has to work both in ani-land and in live action. No easy feat in a multi-cam universe.
Then, live-Luke is removed and the actors run through without him. Once the scene is wrapped, the plates are shipped to 9 Story, where Luke will be added in post.
All the while, Cuperus deals with the minutiae of traditional live-action production, approving sock-colours and box-hedge placement, all while fielding texts from his kids (ruefully) between scenes. "This is mainly how I communicate with my family these days," he jokes.
Given the lack of such shows in the Canadian – and even international marketplace – bringing Luke to life in a multi-cam world, and all the complications it entails, make the effort worth it, says Cuperus. And with Nelvana distributing, Corus too believes the show has high potential to travel globally, given its broad premise, co-view allure and unique animated twist.
"It was a high-risk, high-reward venture," says Cuperus. "It's definitely going to be high-reward – it's looking great."