San Sebastian: Canadians target Latin American partners in Spain
As public subsidies shrink at home, Canadian producers are in the Basque Country this week to woo coproduction partners in Mexico, Columbia and Brazil.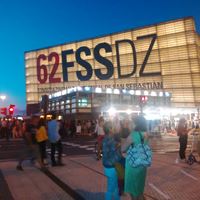 Kevin Tierney is eyeing a Latin American coproduction partner for American Music, a theatrical dramedy by son Jacob Tierney now in development.
So Tierney, best known for producer credits on Bon Cop Bad Cop and movies his son Jacob directed like The Trotsky and Good Neighbours, this week made a detour to Spain.
The Park Ex Pictures topper is one of 12 Canadian film producers attending the San Sebastian International Film Festival's coproduction forum to drum up partnerships with colleagues in Spanish-speaking countries.
"I'm looking for a coproducer from Mexico, and to get an actor or actors," Tierney said Sunday ahead of the Europe-Latin America Co-Production Forum which gets underway Monday at the San Telmo Museum in the Catalan city's old quarter.
American Music is a dark action comedy set in a dystopian near future where a Canadian couple are stopped at the U.S.-Mexican border on their way back to Canada and the woman is shot.
"It's a nightmarish reality that portrays what happens if the Americans declared war on Canada and Mexico," Tierney said during a cocktail and tapas reception at the Kursaal Congress Centre, the festival's headquarters.
With the story set on the U.S.-Mexico border with local characters, Tierney would prefer a Mexican coproduction partner.
He's not alone among the Canadians in San Sebastian eyeing Latin American coin and coproduction partners this week.
As public subsidies in Canada and recessionary Spain become harder to find, film producers in both countries are increasingly turning to Latin America, and especially Mexico, Columbia and Brazil, to help fill out budgets with coproduction coin.
That means developing multi-passport coproductions in part with Latin American storylines.
Yanick Letourneau of Montreal-based Peripheria Productions will be pitching this week a three-way coproduction, X Quinientos, the second feature by Juan Andres Arango that is set in Mexico, Columbia and Canada and already has Septima Films from Colombia and Machete producciones in Mexico on board.
X Quinientos was earlier pitched at Columbia's Bogota Audiovisual Market and as part of Locarno's Industry Days sidebar.
Also in San Sebastian this week is Anne-Marie Gelinas of Montreal-based EMA Films, who has brought the psychological thriller Cobarde, written and directed by Boris Rodriguez.
The feature portrays a union organizer in Mexico losing his job and joining a band of corrupt detectives planning to kidnap the company's owner.
Rodriguez's most recent feature, Eddie: The Sleepwalking Cannibal, had its U.S. premiere at the 2012 Tribeca Film Festival, so Cobarde was earlier chosen to be part of the Tribeca All Access program as Rodriguez and Gelinas look to nail down financing ahead of production.
Another Canadian contingent member this week at the northern Spain festival is Jennifer Weiss, a partner at Toronto-based The Film Farm who is shopping writer/director Sook-Yin Lee's Octavio is Dead.
The romance drama, coproduced with Mexican partner Rio Negro, portrays a young woman from Toronto journeying to Mexico City to confront the ghost of her late father.
The San Sebastian International Film Festival runs to Sept. 27.