How Vancouver ran away with L.A.'s VFX…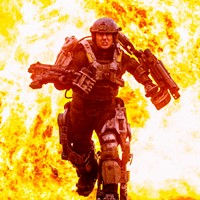 This story originally ran in Playback's Fall 2014 magazine. As the magazine was printed, California's film and television production tax credit reform bill was passed into law and includes a 5% bonus for qualifying visual effects work.
In recent years, Sony Pictures Imageworks and other shops have capitalized on Canada's tax credits, making Vancouver a VFX and animation powerhouse.
But as the industry has grown, there are plans afoot in California to derail the gravy train. And in Quebec, home to a number of global VFX co offices, the government has shown tax incentives aren't written in stone.
This May, the industry was abuzz when SPI announced the move of its home base from Culver City, California to Vancouver's Pacific Centre. SPI already had a B.C. office seating 360, whereas the new facility – slated to open April 1, 2015 – will accommodate 700, which it says will make it the biggest shop in town. Its credits include Edge of Tomorrow and The Amazing Spider-Man 2.
This comes after San Francisco-based Industrial Light & Magic (ILM), which already had a satellite office in Vancouver, moved to a bigger facility in March in a space previously occupied by Pixar, which, as with ILM, is owned by Disney. ILM ramped up its B.C. staff to 200 from 130 this summer, as it worked on VFX for Star Wars: Episode VII and the adapation of the videogame Warcraft.
These are just the latest moves in a northward trend that gained momentum in 2009, when L.A.'s Digital Domain launched in Vancouver and subsequently shifted its feature-film work there. Other Golden State-based shops operating in the city include Method Studios and Zoic Studios, which opened in 2006. London, regarded as the global VFX hub, also has interests in Vancouver, with Technicolor's Moving Picture Company (MPC) having set up shop and the scheduled fall opening of Double Negative, following the merger of the U.K.'s DNeg and Prime Focus World, which already had a footprint in the city.
London's status as the hub of global VFX work was cemented, in part, by the region's U.K. Film Tax Relief program, which was enhanced in April to offer a cash rebate of 25% on a production's first £20 million of expenses, and 20% for subsequent expenses. A couple of years ago, Vancouver's Mayor Gregor Robertson touted his city as trailing only London and Los Angeles in VFX business. Now insiders argue the city stands in second, due to its refundable tax credits on labour costs. A foreign production doing VFX in B.C. benefits from the Production Services Tax Credit (PSTC) – worth 33% of labor expenditures – plus 17.5% through the Digital Animation or Visual Effects Tax Credit (DAVE). (For Canadian productions, the labour refund is 35%.) Factor in the federal PSTC and that can bring savings up to 58.3% According to Creative BC, 74 DAVE-supported projects came to BC for animation or VFX work in fiscal 2013/14, with a cumulative estimated spend of $283 million, up from 72 projects and $247 million the year before.
And every dollar counts. The accelerated expansion of the B.C. industry comes after DAVE was boosted to 17.5% from 15% in 2010, which meant not only more savings, but also demonstrated the government's long-term commitment. (There is no sunset date to the program.) The handful of shops established in Vancouver convinced others to take the plunge, confident of enough work to sustain the local freelance pool. This was a pitfall for SPI's Albuquerque facility, which closed in 2012 because there were no other doors on which freelancers could knock after SPI's projects wrapped.
In Vancouver, there threatens to be too much work, as Hollywood demands shorter turnarounds and the talent pool thins. Local shops are fighting over the same artists and advertising positions everywhere from the Visual Effects Society career fair to online job boards. And it's a tall order to entice freelancers to move to the city, where the average home costs $800,000 – by far the highest price nationwide, according to Statistics Canada. For the estimated 70% of the VFX workforce who freelance, it's a risky and expensive proposition.
SPI's VP production operations Jason Dowdeswell says the shop is collaborating with local universities and technical schools on their curriculums to make graduates quickly employable. He adds that the company is mindful of the city's cost of living, selecting its new location for its proximity to transit.
"While $500,000 might buy only a shoebox apartment in the city, in a rural territory you can look at a house," he says.
Looking to burst the bubble  
According to the California Film Commission's 2014 Progress Report, nearly two dozen of that state's VFX firms have closed or gone bankrupt in the past decade. But there is a movement afoot to reverse the trend. California's Bill AB 1839 has been introduced with the intention of keeping more blockbuster features and TV dramas in the state by expanding a 20% incentive that includes VFX and animation to include movies with budgets greater than $US75 million. It would take effect in 2016, after which Hollywood might expect the state to eventually match Canadian subsidy levels. (Ed note: Bill 1839 was passed into law in September 2014 and includes a 5% bonus for qualifying VFX work.)
"If this bill gets passed, it might bring a significant amount of work back to California, which will then put more pressure on Vancouver and the U.K. to increase their subsidies even more," notes Daniel Lay, a California-based former digital artist who blogs as the "VFX Soldier." "And it will be another large cycle of displacement where VFX workers end up having to move around to work." Lay is behind trade organization ADAPT (the Association of Digital Artists, Professionals, and Technicians), which is working with a Washington trade-law firm to end foreign subsidies. After raising sufficient funds, it plans to submit its case to the U.S. Court of International Trade.
"If they find the domestic industry's been injured and we prove we have significant domestic-industry support, then they will go ahead and place a mandatory duty on U.S. studios that benefit from those subsidies," Lay says.
For now, though, subsidies are the name of the game, although their dependability in other provinces has come under fire. The Canadian Press recently reported on an Ontario Ministry of Finance presentation that questioned that province's tax-credit system, which includes a 20% animation and effects credit plus a 25% all-spend production credit. The document suggested subsidies were a "zero-sum game or simply a race to the bottom," in which Ontario and other territories engage in an endless tax-credit war while production levels remain stagnant.
Meanwhile, the Quebec government surprised everyone in June by cutting tax incentives by one-fifth of their value. Quebec's offerings now include 20% cash back on production services plus a 16% bonus off CGI labour. The Globe and Mail reported that the cuts had Technicolor reconsidering an expansion of its Montreal MPC office. Rival shop Framestore, meanwhile, is not as upset by the message as its delivery.
"I don't have a problem with governments managing their economies, and I understand the reason for the changes," says Sir William Sargent, U.K.-based co-founder and CEO of Framestore, which creates feature-film VFX out of London and Montreal, where it opened last year to establish a North American base from which it deals with Hollywood. "The issue was the nature of the surprise, and that potentially there's a way of handling changes and communicating them better," he continues. "People like us plan on a three- or four-year cycle in terms of investments, training and hiring. It's important to know there's a long-term commitment from the Quebec government for this sort of structure."
And that's not guaranteed, as the reigning Liberals look to cut $3.9 billion in overall spending. They plan to evaluate the credits as well as Quebec's overall tax system.Finance Minister Carlos Leitão has signalled  he prefers a general tax incentive over sector-specific credits.
This comes as the local effects and animation industry has demonstrated significant growth. According to the Québec Film and Television Council, in 2013, the province's 40-plus shops and 2,000 workers handled 12,445 shots on 35 foreign productions, amounting to $96 million in contracts. That is up from 8,552 shots on 28 productions and $79 million in contracts the year before.
Framestore's Montreal office – which Sargent says currently employs 200-plus – has worked on the features Jupiter Ascending and Robocop. While the global industry may now approach Quebec tax credits with trepidation, Sargent is unfazed by the cuts as Montreal builds critical mass with the presence of the U.K.'s Framestore, MPC and Cinesite and France's BUF.
"I don't think it's going to hurt us because the Quebec tax credit is still better than many others around the world," he says. "And studios do business with foreign companies not just for tax reasons, but also for creative reasons. There are other aspects to a company's quality, such as reliability and capacity. Studios now look at  Montreal as having global players, which it didn't have before. I look at it as a permanent place for us."