Third season of Motive starts shooting in Vancouver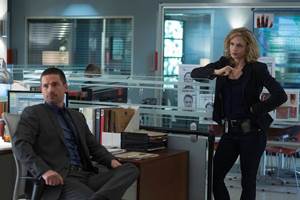 The third season of CTV's Motive drama has started shooting in Vancouver, even though ABC has yet to officially commit to another cycle.
Key cast members are returning for the third season, including Kristin Lehman, Louis Ferreira, Brendan Penny, Lauren Holly and Warren Christie.
Victor Garber has a recurring guest role as a victim's father in the detective procedural, while Jessica Lowndes (90210) and Luisa D'Oliveira (Cracked) will guest star during the third season.
The Foundation Features and Lark Productions drama is shooting another 13 episodes in and around Vancouver through February 2015.
The second season of Motive just wrapped on ABC's summer schedule.
Motive, which was created by Daniel Cerone, will return to the CTV mid-season lineup.