TIFF '14 Review: Denys Arcand's An Eye for Beauty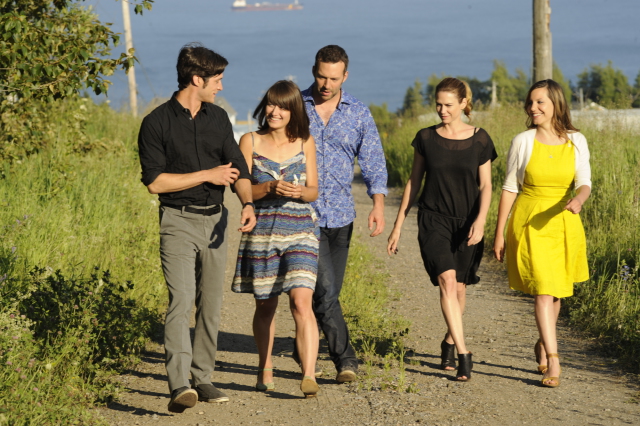 Denys Arcand's Le règne de la beautè (An Eye for Beauty) would make an ideal silent film.
Arcand follows a recent surge of movies that honour and celebrate the cities in which they're filmed. In this case: Toronto and regions just outside Montreal.
Arcand casts Toronto in a commanding role. Cinematographer Nathalie Moliavko-Visotzky structures beauty from the streets and office tower windows.  Sculptures and city landmarks are framed as though designed specifically for this film. We are even granted a rare glimpse of Toronto's skyline through the window pane of an island home.
But where Toronto is the metropolis, Quebec is the oasis.
In Quebec, the view is more spacious and serene. Everyone in this film lives in places surrounded by beauty, but only in moments of despair or self-reflection do they stop to look out a window.
But Arcand's eye for beauty isn't reserved just for the landscape. And it's here where the visuals take a striking but curious turn. There's great beauty in his characters ideally realized by his cast, Èric Bruneau, Mèlanie Thierry and Melanie Merkosky, and freely exploited with scenes of nudity and explicit sex. It is impossible to ignore. Once the scribes drop the pretence that the sex and nudity aren't worth mentioning, than An Eye for Beauty has a chance to find an audience.
 An Eye for Beauty has been called Arcand's love story. If so, it's a love story that lacks in any confirmed affections. There is romance, but it's mired by infidelity and guilt and uninspired dialogue. Better that romance is left to thrive in silence than to be crushed by words.
The film focuses on Luc, an aspiring architect living a privilege life with his wife on the outskirts of Montreal. When in Toronto to sit on a design jury, he meets a young woman who invites him to spend the night. She has only ever slept with her husband, but he's out of town and the moment seems right. If Luc is taken aback, it is only by the ease in which she presents her proposal. Otherwise, there is no indication that he is in any way conflicted by the idea of cheating on his wife.
An Eye For Beauty is not likely to rank as one of Arcand's best works but he has a strong enough presence in the domestic and international film circuit to gain attention. And it certainly won't hurt audience attendance when word gets out about the sexually explicit scenes throughout. Audiences are likely to appreciate the absolutely beautiful look of the movie and even buy into it's somewhat melodramatic storyline.
At times, An Eye for Beauty feels like an underwritten revision of The Decline of the American Empire, only with more exposed flesh and less wit. And the parallels drawn between the women (Anglophone mistress versus French wife)  and polar cities (Toronto versus Montreal) can feel a bit forced. But this is still Arcand, where the bonds of friendship always survive a good meal and a fine wine. Sadly they'll have to do without the stimulating conversation.