Telefilm, Birks honour year's top Canadian women in film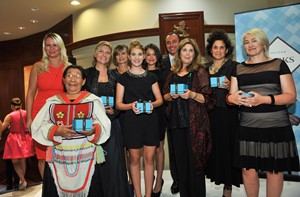 Much that glittered at the Toronto International Film Festival on Wednesday was Canadian as Telefilm Canada and Maison Birks hosted their awards event to honour the year's top Canadian women in film.
"We want to spotlight our industry and the talent that brings our films to life," Sheila de la Varende, Telefilm director, international promotion, told the gathering as breakout Canadian female directors and actors came on stage for the Birks Diamond Tribute.
The acting honorees included Orphan Black's Tatiana Maslany, Anne Dorval, a favourite of Quebec director Xavier Dolan, most recently in Mommy, and Sophie Nelisse, who attracted attention in The Book Thief.
The other acting honorees were House of Cards star Molly Parker and Cobie Smuders, star of How I Met Your Mother.
The director honorees were doc maker Jennifer Baichwal, who co-directed Watermark, Ric Esther Bienstock, who recently won her second  Edward R. Murrow Award and Marie-Hélène Cousineau and Inuit director and actor Madeline Piujuq Ivalu, who co-directed Uvanga, winner of the best Canadian first feature film at the Toronto International Film Festival a year ago.
Rounding out the director feted by Telefilm and Birks is Nancy Savard, who helmed the 3D animated feature The Legend of Sarila.
"We all need to ensure that your unique vision is seen and your unique voice continues to be heard," de la Varende added in tribute to the Canadian women directors and actors.