marblemedia partners on Ashley Madison-inspired TV drama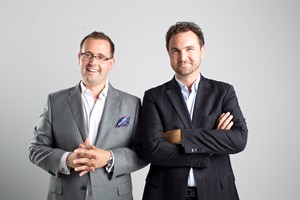 Hot on the heels of marblemedia's primetime expansion with Cirque du Soleil and Bell Media, the indie producer has hooked up with another global brand.
Ashley Madison.
marblemedia has pacted with the Toronto-based online adultery site and U.S. producer OutEast Entertainment to develop a scripted drama series based on the Ashley Madison story.
"As we grow our scripted development slate, we're looking for worlds and universes where we find great characters and complex storylines," Matt Hornburg, co-CEO and executive producer of marblemedia told Playback Daily.
The project came to Roberto Alcantara, the producer's VP of primetime development, based in Los Angeles, from Steven Marrs, president and managing partner of OutEast Entertainment. Marblemedia saw a fit with OutEast, which has produced series like Rogue and The Cover.
"It's a Canadian brand, but has such a huge international following. And it's a complicated world," Hornburg said.
Ashley Madison founder and CEO Noel Biderman added the scripted drama now in development is certain to challenge social mores about monogamy and marriage as it explores the taboo subject of infidelity.
"The sex is the least relevant element. The psychology, the emotion of the cheating mind will drive the drama," he said.
Getting into bed with Ashley Madison also solves for marblemedia a pressing question for any TV producer these days: how to find and engage an audience on a host of platforms.
"We're tapping into an existing audience. We have a direct line to them from marketing buzz to broadcast launch," Hornburg said of targeting Ashley Madison's 29 million global members.
Marblemedia plans to shoot the scripted drama in Canada, and is figuring out whether it will be a 6 out of 10 or 10 out of 10 drama.
Much will depend on which writer boards the project, and how the series is shopping internationally.
"How Canadian and American broadcasters work together is a continually evolving relationship. And with more alternative buyers, and OTT buyers, there's a paradigm shift," Hornburg said.