Blog: Getting goosebumps at the TIFF Talent Lab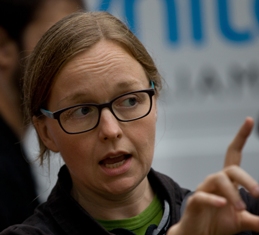 By Kate Melville
The Lightbox gets busier every day, filled with lanyard-toting delegates gathered for the film festival. Everyone seems to be on their cell phone, ready to make a deal. But as I gather with 19 other filmmakers in a quiet cinema upstairs, TIFF director and CEO Piers Handling tells us the TIFF Talent Lab is not a business event, it's about craft. We are here to be inspired creatively; to meet master filmmakers and learn from their experience.
Sitting at the back, I get goosebumps. You can spend an entire festival lingering in corners and after screenings, hoping for 10 minutes of conversation with a filmmaker like Ramin Bahrani or Claire Denis, a producer like Jim Stark or an actor like Sandra Oh. We get four whole days to pick their brains. It's like the best DVD special feature ever.
The day begins with a screening of the Talent Lab participants video self-portraits. We all agree they were agonizing to make, but as we watch them, it's clear they're also a fascinating way to get to know a bunch of emerging filmmakers. There's talent here from Laos, Iran, Georgia, Poland, France, Montreal and even a few (like me) from Toronto.The afternoon is spent with Helen Du Toit in interview sessions with Jim, Ramin and Sandra. The advice comes fast and furious – Jim extols the necessity of one good ending, Ramin stresses the importance of sound over colour in post, and Sandra talks about using metaphor and imagery to talk to actors, rather than adjectives. There's so much to take in, and the festival hasn't even officially started. My head is full of questions, and I have three more days to get answers.
Kate Melville is an award-winning director, playwright and screenwriter. She wrote and directed the 2012 Tatiana Maslany-starring feature Picture Day and her television writing credits include Degrassi, Endgame, Being Erica, Northern Town, Regenesis and Elizabeth Rex. The screenplay for Picture Day took second place in the 2004 Final Draft Screenwriting Competition, out of 3,000 scripts worldwide.