The Film Game: Playback's Fall 2014 issue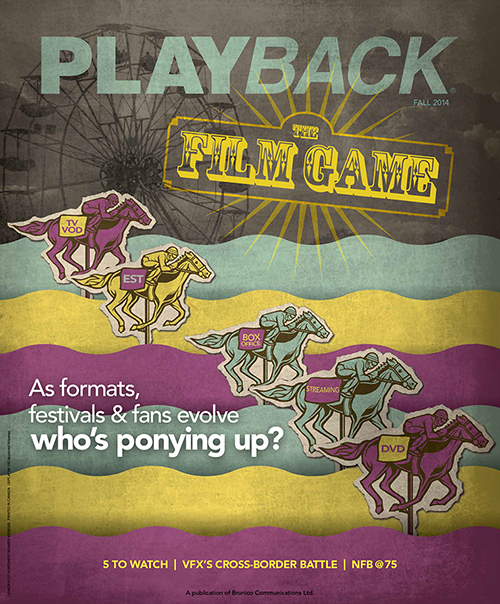 From features on the business of film festivals to the changing nature of home entertainment, Playback's Fall 2014 issue takes a look at the changing nature of the film business and how Canadian companies are meeting the challenge.
Featuring our most-anticipated editorial feature of the year, the "Ones to Watch," our Fall issue also includes our first Hall of Fame inductee of the year, Denise Robert.
Longtime subscribers will notice two changes in this annual issue: the first being our Ones to Watch going from "10 to Watch" to "5 to Watch," the introduction of a new category within that feature called The New Establishment and a new format for our Hall of Fame.
Starting with this issue, Playback will feature one Hall of Fame inductee per issue, profiling the people who have made outstanding contributions to the Canadian entertainment industry. Moving forward, we will be evolving this feature into a robust digital archive, where anyone interested in or researching the Canadian film, television and digital business can find out more about the people who have helped make it what it is today.
As well, we narrowed our 10 to Watch to 5 to Watch in order to give our celebrated talent more profile in the magazine and create an even more rigorous process for selection. We instituted an advisory board of industry professionals to help us pick these talented five, and also created a new category to profile successful professionals a little further along in their careers and making a big impact in their field: The New Establishment.
Digital magazine editions: 
View the i-mag here
View the PDF here
Online articles
Playback's 5 to Watch: Melissa Williamson; Sarah Allen; Jeff Chan; Abby Ho; Rupinder Gill
How Vancouver ran away with L.A.'s VFX
Adventures in multi-cam: The Stanley Dynamic
Please note the following corrections in this issue:
Pg. 34: Treasures Decoded was incorrectly identified as a CBC show;  it was incorrectly stated that History in the U.S. airs Treasures Decoded; the CMPA was incorrectly identified as the OMDC in reference to Williamson's internship; Enemies of the People was incorrectly identified as An Enemy of the People and Niels Arden Oplev was incorrectly identified as hailing from Norway. 
pg 35: Tim McAuliffe was incorrectly identified as Tim McCullough
pg 24: the word "promotion" in paragraph two should be "prints"