Shawn Rosengarten boards Muse Distribution Int'l
The former Just For Laughs director of sales will oversee international sales at Michael Prupas' shingle.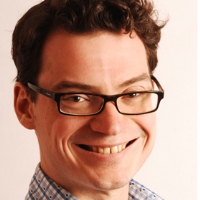 Former Just For Laughs director of sales Shawn Rosengarten has boarded Muse Distribution International.
Rosengarten becomes VP of distribution, overseeing international sales from Muse's Montreal head office. The newly created role comes as the company aims to expand its distribution efforts around the world, said Jesse Prupas, SVP of development and distribution at Muse.
"We felt that we wanted to create a senior position at the company to reflect those efforts," Prupas told Playback Daily.
While at Just For Laughs, Rosengarten licensed over 100,000 hours of content, including series like Just For Laughs Gags and Just For Laughs Stand-Up, according to Muse.
He also brokered deals for Just For Laughs Gags Asia in Singapore with MediaCorp, as well as comedy specials for Comedy Central, Paramount Comedy Spain and China's CCTV3.
His appointment was announced by Muse Entertainment CEO Michael Prupas.
- with files from Julianna Cummins