Zoie Palmer, Lauren Holly join latest LaLonde feature
Christine Horne has also been cast in Jeremy LaLonde's How to plan an Orgy in a Small Town, his follow-up to Sex After Kids. (Palmer pictured)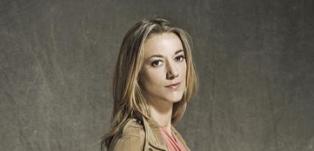 Lauren Holly, Zoie Palmer and Christine Horne have joined Jeremy LaLonde's comedy How to Plan an Orgy in a Small Town.
Lalonde's follow-up to Sex After Kids has already cast Jewel Staite as its lead.
The ensemble cast also has Lauren Lee Smith, Katharine Isabelle, Ennis Esmer, Tommie-Amber Pirie and Jonas Chernick (My Awkward Sexual Adventure).
How to Plan an Orgy in a Small Town portrays a group of friends in the small town of Beaver's Ridge whose orderly lives get interrupted with the homecoming of big city sex writer Cassie Cranston (Staite).
Cassie in her youth was humiliated by being labeled the town slut.  And now with former friends asking advice to kickstart their sex lives,  she gets her chance for revenge.
Jordan Walker and Chris Bennett will produce the indie comedy, and Avi Federgreen and Ryan Goldhar are executive producing.
The Neophyte Productions title will start shooting in October.
The film is financed in part by Telefilm Canada and an Indiegogo campaign.