Who jumped to Sportnet from CBC for NHL TV coverage?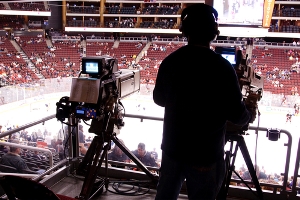 The move was expected, but seeing CBC Hockey Night in Canada analysts like Kelly Hrudey, Glenn Healy and P.J. Stock jump to Sportsnet to help call NHL hockey during the coming season is still a milestone for Canadian TV.
George Stroumboulopoulos and  Ron MacLean earlier joined Rogers' blockbuster team to cover over 500 regular season NHL games on nine networks, including the CBC on Saturday nights.
Now following them is Healy and Craig Simpson as game analysts, Hrudey as a regional broadcaster for the Calgary Flames, while Healy, Hrudey and Stock will also serve as studio analysts and insiders.
The CBC's Cassie Campbell and Scott Oakes will also serve as rinkside reporters as Sportsnet on Thursday unveiled in all 39 hosts, play-by-play announcers, analysts and reporters to cover the 2014/15 NHL season.
Rounding out the Sportsnet-led NHL coverage is Leah Hextall and Jeff Marek on board as hosts, Bob Cole, Jim Hughson, Dave Randorf and Paul Romanuk as play-by-play announcers, and Rick Ball, Kevin Quinn, Romanuk and Randorf and John Shorthouse joining as regional broadcasters.
- Image courtesy of Shutterstock