October Gale to open St. John's Women's Film Fest
Ruba Nadda's latest film will open the Atlantic Canada festival on Oct. 14, while Deanne Foley's romantic comedy will close the 25th edition. (Nadda pictured)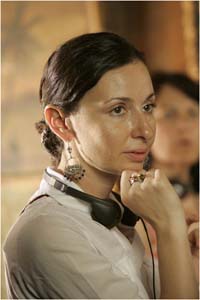 Ruba Nadda's October Gale is to open the St. John's International Women's Film Festival on Oct. 14.
The festival's 25th edition will also close with Deanne Foley's Relative Happiness, organizers said Monday.
Nadda's latest film, starring Patricia Clarkson, Tim Roth and Scott Speedman, will screen in St. John's after debuting at the Toronto International Film Festival next month.
Foley's romantic comedy based on the novel by Cape Breton writer Lesley Crewe, screened in Cannes as part of Telefilm Canada's Perspective Canada program and is set for a theatrical release in spring 2015.
Relative Happiness, set in small-town Nova Scotia, stars Aussie actress Melissa Bergland, alongside Aaron Poole, Jonathan Sousa, Susan Kent and Joel Thomas Hynes.