TIFF '14: Wet Bum, Guidance ride the Next Wave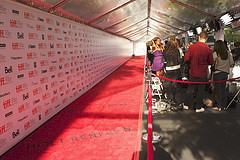 Lindsay MacKay's Wet Bum and Pat Mills' Guidance have been selected to be featured in TIFF's Next Wave program, the festival announced Tuesday, as it unveiled more titles to be featured across various programs in its 2014 edition.
In addition to Wet Bum and Guidance, other films selected to the Next Wave initiative include Jason Reitman's Men, Women and Children (USA), Morgan Matthews X + Y (United Kingdom) and Stefan Liberski's Tokyo Fiancee (Belgium/Canada/France). The Next Wave committee are made up of 12 teens, aged 15 to 18, who select films from the festival that will appeal to younger audiences.
The festival also announced the filmmakers and actors set to speak as part of its Mavericks program. Director David Tedeschi and New York Review of Books editor Bob Silver will speak following the screening of The 50 Year Argument, [Link to RS article] which was directed by Tedeschi and Martin Scorsese. Director and journalist David Thorpe and sex-advice columnist Dan Savage will speak after the screening of Do I Sound Gay, and director Julie Taymor will speak on the making of A Midsummer Night's Dream after her film has its international premiere. Other actors and artists set to participate in the Mavericks program include Richard Gere, Reese Witherspoon, Robert Duvall, Jon Stewart, Juliette Binoche, Denzel Washington and Antoine Fuqua.
The festival also announced titles to be added to a variety of programs across the festival. International additions to the Discovery program include the world premieres of Shariff Korver's The Intruder (Netherlands), Juan Martin Hsu's La Salada (Argentina), Batin Ghobadi's Mardan (Kurdistan), Carlos Vermut's Magical Girl (Spain) and Rooth Tang's Sway (USA/France/Thailand).
Sean Evans and Roger Waters' Rogers Waters The Wall (United Kingdom) was added to the special presentations lineup and is slated to have its world premiere at the festival, along with Theodore Melfi's St. Vincent. Jame Franco's The Sound and The Fury (USA) will also get its North American premiere in a special presentation. Titles added to the Masters program include Krzysztof Zanussi's Foreign Body (Poland/Italy/Russia) and Raoul Peck's Murder in Pacot (Haiti/France/Norway), both of which will see their world premieres at the festival. Marjane Satrapi's The Voices (USA/Germany) will get its Canadian premiere in the Vanguard program, while Danis Tanović's Tigers (India/France/United Kingdom) will see its world premiere in the Contemporary World Cinema program.
The festival also announced the names of various actors and filmmakers expected to attend this year's event, including Xavier Dolan, David Cronenberg, Michelle Latimer, Chris Rock and Jeffrey St. Jules. Actors slated to attend TIFF 2014 include Christopher Plummer, Jennifer Aniston, Tina Fey, Bill Murray,  Jake Gyllenhaal, Aubrey Plaza, Kristin Wiig and Anna Kendrick.
Finally, TIFF released additional details about its new Festival Street initiative, which will see King Street West between Peter and University Streets made into a pedestrian promenade. The promenade will feature art, a music stage, food trucks, pop-up performances and seating areas. Telefilm Canada and eTalk will also be hosting a live game show on the promenade, where the actors selected as TIFF's Rising Stars will compete against established Canadian talent as they are tested on their Canadian cinema knowledge.