Canadians take home prizes from Locarno film fest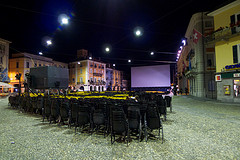 The Creation of Meaning, an Italy-Canada coproduction by director Simone Rapisarda Casanova, screened at the Locarno International Film Festival as part of the Filmmakers of Today Competition which spotlights first or second films.
Now Casonova, who was born in Sicily and today lives in Montreal, has returned from Locarno with the prize for best emerging director in the contemporary filmmakers competition.
The Creation of Meaning is set in the mountains of Tuscany where a shepherd born in the wake of the Second World War finds himself suspended between the phantoms of bloody history and an obscure future as a new Europe takes shape.
Locarno prize-giving also honored Hole, a short film by writer/director Martin Edralin that earned the film and video subtitling award after screening in a section of the Leopards of Tomorrow international competition for emerging directors and film students.
The 15 minute film follows Billy, a middle-aged disabled man who is a classical music lover and well-liked Value Village worker who longs for human intimacy.
Hole, which stars Ken Harrower, Sebastian Deery and April Lee, is to receive a North American premiere in Toronto.