DHX Media producing Supernoobs cartoon
The kids series has been acquired by kids channels in Canada and the U.S.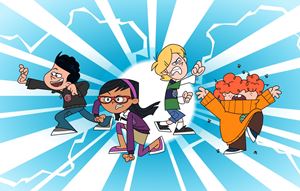 Indie producer DHX Media has started production on Supernoobs, a 2D animated kids' comedy commissioned by Teletoon Canada and acquired by Cartoon Network in the U.S. market.
The series, aimed at the 6-to-11-year-old demographic, is being produced out of DHX Media's Vancouver studio.
Supernoobs, created by Scott Fellows (Johnny Test),  portrays the Super-Tastic-Supernoobs amid the evils of the universe and the evils of adolescence.
DHX Media has the worldwide TV, licensing and merchandising rights, excluding the Canadian and U.S. broadcast rights.
The Halifax-based indie producer has closed a number of business deals as of late, recently receiving approval from the CRTC to take over the Family Channel. DHX also acquired Degrassi franchise producer Epitome Pictures this spring for $33 million. Epitome recently started production on its first series following the acquisition, a live-action teen drama titled Open Heart.