Bitten bewitched by new cast members
Tammy Isbell (pictured), Tommie-Amber Pirie, and Kiara Glasco will play a coven of witches for the second season of the series.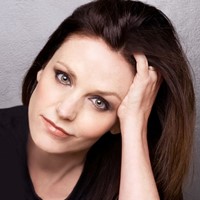 Tammy Isbell, Kiara Glasco and Tommie-Amber Pirie have joined the Bitten cast as production starts on its second season, Bell Media's Space channel announced Wednesday.
Isbell, Glasco and Pirie will play a coven of witches that turns to the werewolves for support. Isbell (Saving Hope) will play coven leader Ruth Winterbourne, Pirie (Michael: Tuesdays and Thursdays) will play Ruth's daughter Paige, while Glasco will take on the role of the young witch Savannah Levine. Cast members set to return for the second season of the show include Laura Vandervoot, Greg Bryk and Greyston Holt.
The second season of the series, which will feature 10, one-hour episodes, is currently set to premiere on Space at some point in 2015 and will also air on Syfy in the U.S. The second season will shoot on location in Toronto, Hamilton and Hespeler, ON.
Bitten, based on the Women of the Otherworld novels by Kelley Armstrong, had an average audience of 347,000 viewers in its 9 p.m. Saturday timeslot, according to BBM data that was provided by Bell Media. On Syfy, the first season of the series averaged 1.1 million total viewers, based on Live +7 data.
Bitten is produced by No Equal Entertainment, Entertainment One Television and Hoodwink Entertainment, in association with Space. The series is executive produced by J.B. Sugar for No Equal Entertainment, John Barbisan and Patrick Banister for Hoodwink Entertainment, and John Morayniss, Tecca Crosby and Margaret O'Brien for eOne.
Daegan Fryklind serves as showrunner, writer and executive producer. Wil Smak is a co-executive producer and writer on the series. Other writers on Bitten include Michael MacLennan, Jenn Engels, Larry Bambrick and Garfield Lindsay Miller. eOne is the international distributor for Bitten.