MacKay, St. Jules films to get world bows at TIFF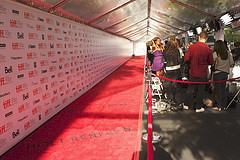 Toronto International Film Festival programmers on Wednesday unwrapped the festival's Canadian film lineup, featuring world premieres for a number of buzzed-about projects and special presentations by Canadian directorial legends.
Debuting in the Discovery category will be Adam MacDonald's Backcountry (Fella Films, with distribution from D Films); Jeffrey St. Jules' Bang Bang Baby from Scythia Films; Big Muddy from Jefferson Moneo, Aiken Heart Films and Angel Entertainment and distribution by Union Pictures; Lindsay Mackay's debut feature Wet Bum (Clique Pictures, Devonshire Productions and Buck Productions; distribution by Search Engine Films); Mathieu Denis' Corbo, Jordan Canning's We Were Wolves, Kris Elgstrand's Songs She Wrote About People She Knows, Kyle Thomas' debut feature The Valley Below and Pat Mills' Guidance. Albert Shin's Canada-South Korea coproduction In Her Place, produced by Toronto's Timelapse Pictures and distributed by A71 Entertainment, will also get its world premiere in the Discovery program.
"It's really amazing. Having grown around up in Toronto, gone to film school in Toronto, TIFF has always been a bit of a landmark and an achievement you want to have," said MacKay of the inclusion of Wet Bum in the 2014 edition of TIFF. Following the premiere at TIFF, MacKay said she would like to see Wet Bum see a European premiere at a festival, and screen at American festivals like South by Southwest.
The Special Presentations category features red-hot Canadian director Xavier Dolan in two capacities: the first, as an actor in Charles Binane's The Elephant Song and also the "Toronto" premiere of Mommy, which had its world premiere at Cannes. The "Toronto" moniker – as opposed to "Canadian premiere" – indicates a possible Montreal screening for the film, at the Montreal World Film Fest, running Aug. 21 to Sept. 1.
The category will also feature the Toronto premiere of veteran Canadian director Denys Arcand's An Eye for Beauty, which screened at Cannes as well and bows at TIFF following a theatrical release in Quebec, a new feature from Jacob Tierney called Preggoland, dealing with the politics of new motherhood, and the world premiere of celebrated Canadian director Ruba Nadda's October Gale.
Only three Canadian docs will screen in the category at this year's TIFF: Sturla Gunnarsson's Monsoon, Harold Crooks' The Price We Pay and The Wanted 18, from Amer Shomali and Paul Cowan.
Homegrown titles earning Contemporary World Cinema berths include Maxime Giroux's Felix and Meira, Andrea Dorfman's Heartbeat, Rodrigue Jean's Love in the Time of Civil War and Teen Lust, from Blaine Thurier.
The high-profile section is also giving a Toronto premiere to Tu dors Nicole, by Stephane Lafleur as Quebec directors as usual continue to make a strong showing at TIFF.
Elsewhere, the Midnight Madness program will feature the world premiere of The Editor, from Matthew Kennedy and Adam Brooks, and the Masters program will screen the world premiere of veteran director – and TIFF regular – Alanis Obomsawin's Trick or Treaty?
The Wanted 18 is a Canada/Palestine/France coproduction, and tells the story of how 18 cows in a Palestinian village became a symbol of resistance during the first Palestinian Intifada.
The festival also released the names of four Canadian short films to screen in the Wavelengths program: Alexandre Larose's brouillard – passage #14, Jean-Paul Kelly's The Innocents, Blake Williams' Red Capriccio, and Malena Szlam's Lunar Almanac. brouillard – passage #14, The Innocents, and Red Capriccio will all get their world premieres in the program, while Lunar Almanac, a Canada-Chile coproduction, will get its Toronto premiere at TIFF. The festival's Short Cuts Canada program will fearture 42 shorts, including the world premieres of Michelle Latimer's The Underground  and Ryan J. Noth's A Tomb with a View. 
The Future Projections program will feature the world premiere of Anna and the Tower from Lynne Marsh, while the TIFF Cinematheque program will include a new digital restoration of Atom Egoyan's Speaking Parts, and John Paizs' Crime Wave.
At the end of the festival, TIFF will award the Canada Goose Award for the best Canadian feature film, and the Best Canadian First Feature Film, awarded to the Canadian filmmaker with the most impressive debut feature. The judging panel for this year's Canadian awards include Michael Dowse, Ingrid Veninger, Jennifer Jonas and film critic Jason Anderson.