Deals: PNP, Big Bad Boo, D Films, 108 Media
Pacific Northwest Films picks up the Canadian rights for Night Moves, while Big Bad Boo Studios secured a deal for 1001 Nights (pictured).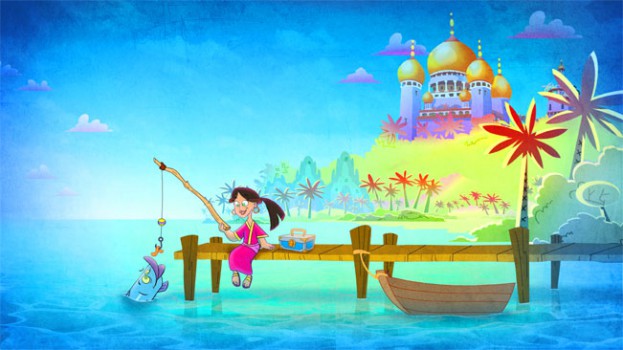 Pacific Northwest Pictures
Indie distributor Pacific Northwest Pictures has picked up the Canadian rights to the Kelly Reichardt-directed eco-thriller Night Moves.
The deal with Cinedigm will see PNP open the  Jesse Eisenberg and Dakota Fanning-starrer with a platform release starting in Vancouver and Toronto.
Night Moves follows a group of young radicals plotting to blow up a hydroelectric dam in Oregon.
The film debuted at Venice in 2013, before shifting to a North American premiere at the 2013 Toronto International Film Festival.
Night Moves is a production of Maybach Film Productions, RT Features and filmscience.
The film had its U.S. release from May 30, 2014.
- Etan Vlessing
Big Bad Boo Studios 
Vancouver-based Big Bad Boo Studios announced its 1001 Nights animated series is headed to TV Jamaica, that country's largest TV station. The Kingston-based broadcaster, with a viewership of 2.7 million, will run the program weekly starting Wednesdays at 3 p.m.
The comedic series tells the tales of Arabian Nights for a kids audience. 1001 Nights currently airs in 15 different languages across 80 countries, with broadcasters including Discovery Kids, Teletoon, CBC, Disney and Al Jazeera Children's Channel.
1001 Nights also has a series of comic books available both in print and digital formats, while further L&M deals are currently in discussion across Asia and the Middle East.
D Films 
Toronto's D Films has picked up the exclusive Canadian distribution rights to Adam Wingard's The Guest following its screening at the Sundance Film Festival.
The film, starring Dan Stevens, Maika Monroe, Brendan Meyer, Leland Orser, Sheila Kelley and Lance Reddick, is currently slated for a fall release in Canada.
The distribution deal was negotiated by Michael Robson for D Films, and Clair Taylor for HanWay Films. Picturehouse has the U.S. distribution rights for The Guest.
108 Media
Toronto-based 108 Media has picked up the worldwide rights to the martial arts film Yasime, ahead of its North American premiere at Montreal's Fantasia Film Festival.
The film was directed by Siti Kamaluddin and was produced Origin Films, a production company based in Brunei Darussalam. Yasime stars Liyana Yus, and follows the story of  a woman who joins her college silat (a form of martial arts) club after her lover falls for another martial arts enthusiast.
The deal was negotiated by Din Kamaluddin for Origin Films, and 108 Meda's Jordan Nutson.
- with files from Kidscreen