Child actor protections bill reintroduced in Ontario
An earlier version of the bill died on the order paper when a provincial election was called this spring.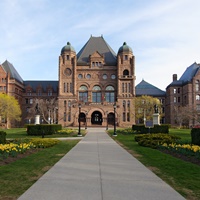 ACTRA is taking another run at toughening child acting rules by getting a private member's bill through the Ontario Legislative Assembly.
Bill 17, from Paul Miller, the M.P.P. for Hamilton East-Stoney Creek, aims at stronger protections for non-union child performers.
An earlier version of the bill died on the order paper when the recent Ontario election was called.
As far back as the 2002 book The Stage Parent Survival Guide by Robyne Baruchel, ACTRA has campaigned for protections for child performers to be written into law, instead of remaining guidelines for the actors' union with no legal teeth.
To the frustration of the actors union, labour laws that forbid children from working in Canada do not extend with protections to vulnerable child performers in the film, TV and live performance industries.
Bill 17 aims to codify child performers' protections for hours of work, breaks on set, parental, chaperons and other supervision, and requirements that no one on set around children have a criminal record.
"The paramount purpose of the (Protecting Child Performers) Act is to promote the best interests, protection and well being of child performers in the live entertainment industry and the recorded entertainment industry," Bill 17, which received its first reading on July 16 and was carried to a second reading, states.